Exclusive
Leaked Text Messages Reveal Lizzie Thinks Tamra LIED About Why She Skipped Her Birthday — And Got Vicki To Lie Too!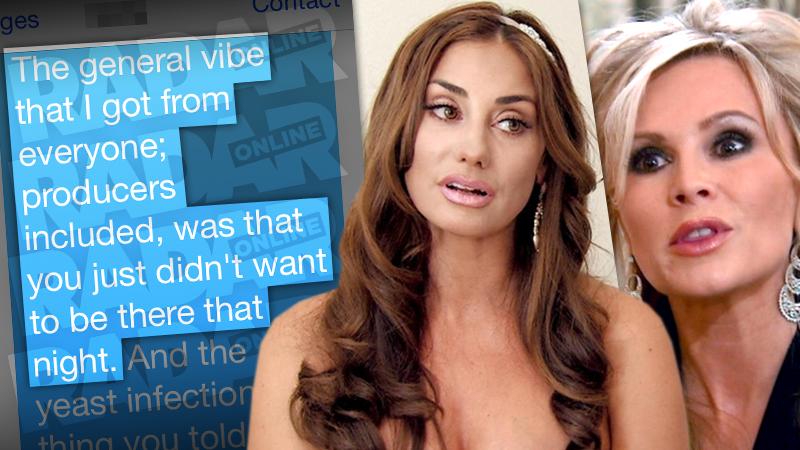 A secret text message conversation between Lizzie Rovsek and Tamra Barney reveals the Real Housewives of Orange County newbie thinks her costar lied about why she missed her birthday party — and even convinced Vicki Gunvalson to come up with an excuse too.
In the messages exclusively obtained by RadarOnline.com, Rovsek, 34, confronted Barney, 46, alleging that she skipped her stripper party bus birthday party because she simply didn't want to go, instead of the excuse she gave saying her daughter Sophia was sick.
Article continues below advertisement
Rosvek's party was a bust when none of her Housewives castmates showed up to celebrate with her — and when the show aired it showed her calling Barney asking why she didn't show to which she responded her daughter was sick.
"I understand they told you to wait to tell me you couldn't go. On a personal note I think it would have been much cooler of you to let me know that morning," Rovsek texted to Barney.
"I honestly wouldn't have cared if you just didn't want to go… The general vibe I got from everyone; producers included, was that you just didn't want to be there that night."
What's more, Rovsek claims in her text that Barney was the one who urged Gunvalson to say she couldn't attend because of a yeast infection (TMI!).
"And the yeast infection thing you told Vicki to tell producers wasn't very nice," Rovsek wrote.
Article continues below advertisement
"I'm just sorry the bday night even happened. I have always liked you a lot and sorry that a fun night ended so badly."
As Radar previously reported, Barney called out Bravo on her blog for manipulating scenes, creating unnecessary drama and making her out to be the villain.
According to the mother of four, she alerted producers in advance that her daughter was sick and she would be unable to make the soiree, but seemingly desperate for drama, they forced Barney to wait until the last minute to let her costar know.
"They asked me to wait until the cameras were up in the limo to let Lizzie know," she wrote. "Then they had her call me and say 'How rude that you didn't call me.'"
Do you think Tamra should have at least given Lizzie the courtesy of a heads up that she wouldn't be attending the birthday, or did it make for good drama on the show? Sound off in the comments below . . .