Luck Of The Irish? SJP And Matthew Broderick Have 'Intense Discussions' On Vacation To Ireland Amid Cheating Rumors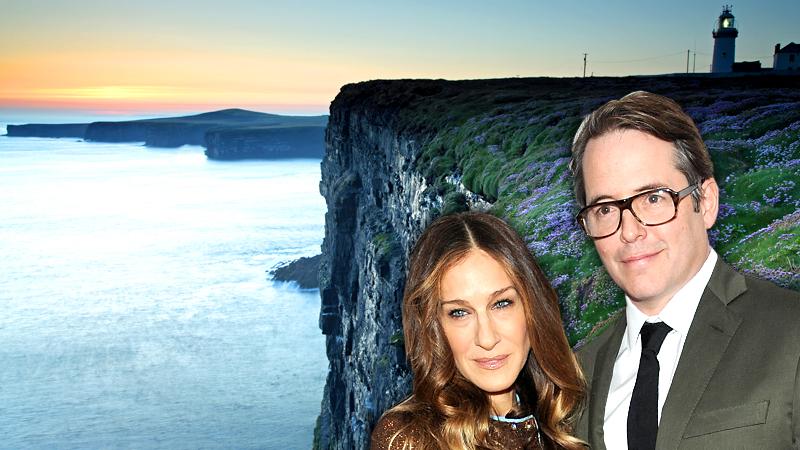 It looks like Sarah Jessica Parker and Matthew Broderick are hoping for a little luck of the Irish to heal their marital woes.
According to an exclusive report by The National Enquirer, the famous couple traveled to Ireland recently in an effort to save their 17-year marriage after reports surfaced of Broderick's wandering eye.
According to the magazine's sources, the Sex and the City star took her husband to their four-room vacation cottage in Donegal, Ireland, where their therapeutic getaway looked less than relaxing.
Article continues below advertisement
"They normally venture all around Donegal, but this time they spent the majority of their time locked away in their remote home out in the countryside," a source told the Enquirer. "One evening they went into Nancy's, a seafood restaurant, and hardly said a word to each other. It was pretty clear during the trip that Sarah and Matthew were having some pretty intense discussions."
Those heated conversations could very well have something to do with the recent headlines that the Ferris Bueller's Day Off star was caught scoping out a sexy brunette at a bar.
According to insiders, the the ongoing cheating claims have taken their toll on the 49-year-old actress.
"Sarah told a couple of pals in Ireland that she and Matthew are constantly trying to keep the marriage fresh and fun, but it's been much harder since the cheating allegations," the source told The ENQUIRER. "She emerged from their cottage to hang wash on the line in their garden and was in full view of everyone passing by. She came outside five days in a row, looking tired and wearing the same sweater."
Article continues below advertisement
The couple actually traveled to the Irish town with their three children – 11 year-old son James and 5-year-old twin daughters Marion and Tabitha – in tow, but the family were hardly seen in public except for dinner at Lough Eske Hotel, where Parker couldn't take her eyes off a newlywed couple celebrating their own wedded bliss.
Onlookers told the Enquirer that a bride getting married at the hotel, Marie O'Flynn, was starstruck by Parker's presence. And though the actress didn't hesitate to take photos with her on the big day, she "seemed really emotional."
"She watched the bride arrive," added the source, "and she seemed to be really envious of the happiness and joy of the whole moment."
Do you think Parker and Broderick's marriage will last? Let us know in the comments!