Kim Zolciak Eats Her Own Placenta After Giving Birth To Twins On 'Don't Be Tardy' Premiere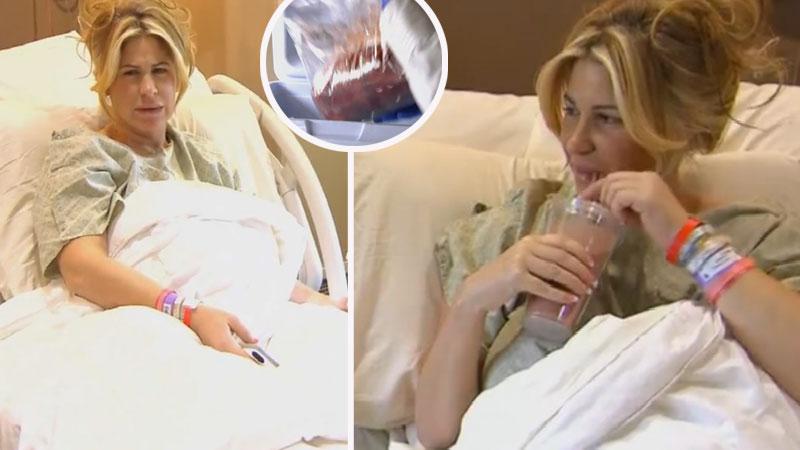 Kim Zolciak kicked off the season premiere of Don't Be Tardy by giving birth to twins and then eating her own placenta to avoid postpartum depression, and RadarOnline.com has all the details.
"I'm nervous," Zolciak says when the placenta encapsulation specialist arrives at her hospital room. "What do you do with the smoothie? Tell me about it."
After revealing that she will take a piece of Zolciak's placenta and put it in a smoothie, the expert describes it as "just like raw meat."
Article continues below advertisement
"Dr. Hood has really scared the sh*t outta me with this whole postpartum depression, especially with twins because your levels are through the roof and my friend told me eating your placenta can help with that," Zolciak tells the camera. "I can do anything by my babies."
But Zolciak's husband Kroy Biermann isn't on board when she tells him to drink a smoothie with her.
"I love my wife and I'll do a lot for her, but you might as well pick your nose and throw a few boogers in. It's been inside of you," he tells her.
"Physically you've been inside me, right?" she corrects him.
"Yeah, my penis," he says, "but that's fine."
Zolciak tells him, "Don't f**ckin' back out on me, I just pushed out two of your children and one of them breach and my p*ssy's tore to hell because of it. You are drinking the f**king smoothie Kroy."
So after a bit of a blend and a "cheers!" the two take their first sips.
"It tastes like a fruit smoothie," she says. "Kroy, just drink it."
"Oh, there it is," Biermann points out. "I got a three minute delay aftertaste."
Zolciak isn't the first famous face to eat their placenta after birth — Holly Madison talked about eating hers after giving birth, along with January Jones and Clueless star Alicia Silverstone.
Tune in to Don't Be Tardy on Bravo Thursday night's at 9/8c.