Did Cooper Harris' Father Watch Heat Video As Instructional Manual? How Did Mother Act After Visit To Jail? Plus 3 Other New Developments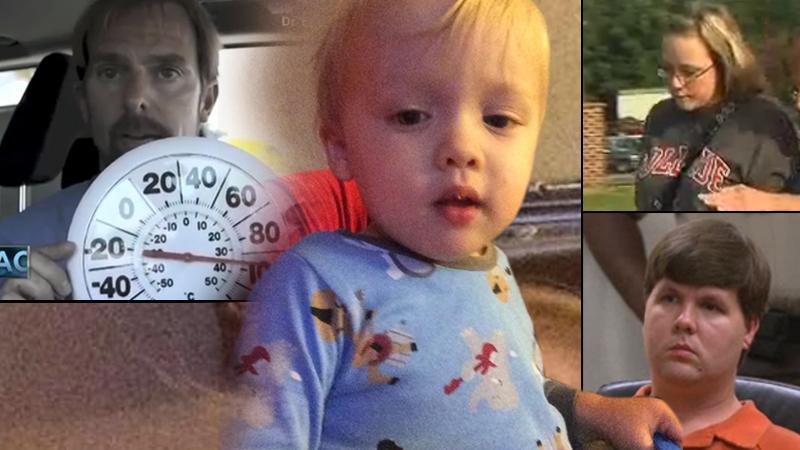 We've got the latest developments in the tragic death of Cooper Harris, the 22-month-old who perished June 18 after spending approximately seven hours in a sweltering SUV, leading officials to charge his father Ross with felony murder and second-degree child cruelty in the death.
1. Visiting Day
Leanna Harris, on Tuesday morning at 8:00 A.M., visited her husband at Cobb County Jail early Tuesday, Atlanta affiliate WXIA reported, and spent the maximum allotted time of 30 minutes with him. Leanna, who had an unidentified woman with her present for the pow-wow, had to register, submit her fingerprints and have her picture taken, per jail protocols. According to the station, Leanna looked sad as she exited the facility, at one point covering her bowed head in her hands. The mother has been under intense media scrutiny since the child's death, as a number of incidents have purportedly illustrated a lack of reaction to the boy's passing, as she's seemingly shown more concern for her husband's welfare. "She didn't show any emotion when they asked her, well, actually when they notified her of Cooper's death," Det. Phil Stoddard said.
Article continues below advertisement
Watch the video on RadarOnline.com:
2. Investigation Progress
Police Wednesday took the Hyundai Tucson Cooper died in back to the spot in which the 22-month-old died — near the Home Depot his father worked at — to simulate the exact conditions present the day of the boy's June 18 death, Atlanta's FOX 5 reported. Officials monitored temperatures inside the vehicle at intervals throughout the day. Stoddard proclaimed the area a "crime scene" during a hearing last week.
Watch the video on RadarOnline.com:
youtube=https://www.youtube.com/watch?v=gGMdmqmnex0&w=853&h=480
3. Instructional Manual?
Anderson Cooper Tuesday aired an animal safety video that police said Harris watched twice prior to the boy's death. In it, Dr. Ernie Ward, a veterinarian, holds a thermometer as he discusses the hazards of leaving your pets in your automobile in hot weather. In the clip, Ward sits in a closed car describing the conditions as the car's interior continued to bake under searing temperatures. "Needless to say, it's incredibly hot . . . it's awful . . . the only thought that's going through my head right now is, 'I just - I want out of the car,'" Ward said in the clip. "You know, it's just everything in my body is saying get out, get out, get out. I can just feel rivulets of sweat just careening down my body. I don't know if you can tell, but man, I'm just — I'm fully drenched now. I have sweat just completely cascading down my face and nose, my lips and I can do that . . . I mean, this kills, and it's a lousy way to die."
Watch the video on RadarOnline.com:
4. Toxicology Reports In
Medical examiners on Tuesday reported that Cooper had no substances in his system at the time he passed away, meaning he was given no sedatives or drugs prior to his death.