Exclusive
Brandi Glanville & Adrienne Maloof Renew Fight At Kyle Richards' Party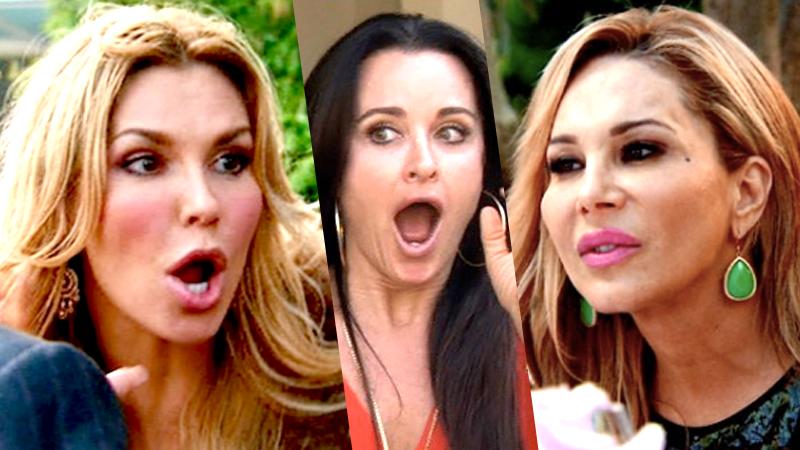 Article continues below advertisement
"Everyone remembers the contentious relationship they previously had, as Adrienne had accused Brandi of leaking private information about her family," the source said. "Adrienne attempted to have a civil conversation with Brandi, but it quickly got out of control."
"Brandi accused Adrienne of attempting to use her to get famous, and get back on the show," according to the insider. "It was sad because Adrienne really did have the best intentions but it wasn't reciprocated by Brandi."
Grammer and Maloof will be making special guest appearances on the next season of RHOBH, but won't be regular cast members, according to the insider.
It's just the latest drama for Eddie Cibrian's ex-wife, Glanville, who recently said their 7-year-old son Jake was "a complete a**hole," a "f*cker," a "d*ck,"during a podcast, and already has plans to send him to rehab!
The starlet's questionable tangent came spilling out as she spoke with her guest on her podcast, actor Jake Lacy. "My son's name is Jake: He's 7, he's a complete a**hole, but we love him. Oh man, he's a d*ck, seriously,' Glanville, 41, told Lacy. Glanville said that the boy unabashedly defies her, such as in cases when he shamelessly neglects to do something she asked of him. She said when she tells him, "I told you to do this," he responds, "Well, I lied!"
Article continues below advertisement
PHOTOS: Top Earning Real Housewives
She told Lacy she's "already, like, booking rehab for Jake down the road" based on his shenanigans.
The foul mouthed valley girl later said she was "joking."
"I joke about my kids & dogs being a**holes sometimes cuz honestly they can be," the outrageous single mom, 41, tweeted June 21. "But I love them more than life!! People that know me know that!"
But such drama is just what the ratings doctor ordered, according to insiders.
"Last season's ratings were less than stellar," the insider said. "There is hope that Brandi and Adrienne will continue to spar."
Are you excited to see Glanville and Maloof back together on TV? Let us know in the comments!