'I Finally Got The Engagement Ring,' Bachelorette Andi Dorfman Crows, As Couple Sets Tentative Spring Wedding Date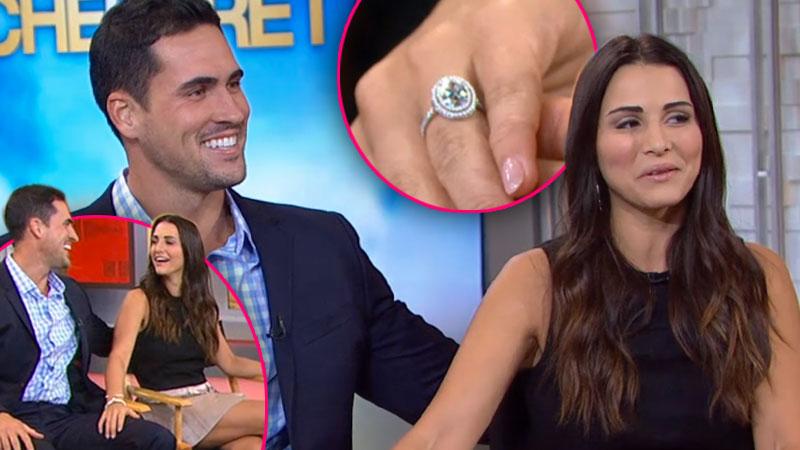 The Bachelorette lovebirds Andi Dorfman and Josh Murray, appearing on Good Morning America Tuesday following the show's finale airing Monday evening, opened up about their experiences on the ABC reality romance, the jilted suitor left behind in the wake of their pairing, and when they intend to exchange vows.
Asked about how long it took to narrow her sights on the man she'd eventually choose, the 27-year-old beauty said in the joint appearance, "It took me until the end, but there was something special with him for sure . . . I'm definitely an over-thinker."
Article continues below advertisement
Murray chimed in, "I knew she was very intelligent, but she's so beautiful."
The last man out of the limo in the show's famous beefcake procession, the 29-year-old hunk admitted he "was intimidated when he first got out of that limo, for sure."
Asked how they will proceed now that they don't have to keep their union under wraps in the wake of the show's end airing, Murray said he'd like to "just walk around, walk his dog" and grab "a piece of pizza" in New York.
As far as wedding bells, Murray said the two are looking to a big day in the spring of 2015, a plan which Dorfman was comfortable with. Both agreed they would enjoy the glowing engagement period while it lasts.
"I finally got the engagement ring," Dorfman beamed. "I've been waiting for this for a while."
Watch the video on RadarOnline.com:
The most awkward piece of the interview came when the topic of spurned bachelor, Chicago businessman Nick Viall, came up.
Article continues below advertisement
"That's always the tough part, I think that's kind of the nature of the beast with the show," the lovely lawyer said. "I had to break up with 24 guys to get the one I really wanted and needed.
"It's always a little uncomfortable when you have to watch the breakups and talk about them, for everyone, I think."
As for a romantic mystery letter, in which a suitor (later revealed as Viall) pined for her affections, Dorfman made it clear whatever was written had no impact on her decision to stick with Murray.
"It's obviously something I read . . .again, I'm very happy in my relationship. We've moved past that, which is nice."