Happy Ending: Trayvon Martin Trial Key Witness Rachel Jeantel Graduates High School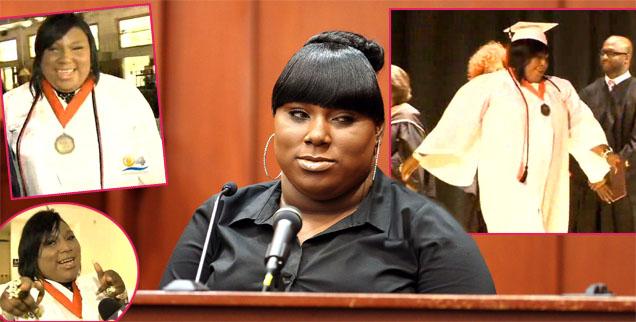 Rachel Jeantel kept her promise to slain friend Trayvon Martin.
The 20-year-old child of Haitian immigrant parents - who was the last person to speak with Martin just moments before he was famously shot and killed by neighbor George Zimmerman in Sanford, Florida, on February 26, 2012- graduated from high school on May 30, receiving her diploma in a Miami auditorium.
The late Martin's mother, Sybrina Fulton, watched the emotional ceremony.
Article continues below advertisement
"Her coming is like having Trayvon there saying, 'You did it. You proved people wrong,'" Jeantel told Yahoo News.
Jeantel was ridiculed for her brash demeanor and struggle with the English language during her four-hour testimony during last summer's public trial against Zimmerman. (Zimmerman, who claimed he shot Martin in self-defense, was found not guilty and acquitted on second-degree murder and manslaughter charges last July.)
After the trial, Miami civil rights attorney Rod Vereen, 53, and the Tim Joyner Foundation hired three tutors and a psychologist to prepare Jeantel for her senior year.
"I did it," Jeantel said. "The witness who didn't know how to speak English knows how to speak English through the 12th grade now. I never quit."
Now she's is preparing to enroll in college.
"When people see Rachel Jeantel now, I want them to say, 'Wow, there was something good that came out of something so tragic,'" Jeantel's mentor Vareen said.