'Sister Wives' Sex Talk Is As Conservative As The Duggar's: Kissing Is Dangerous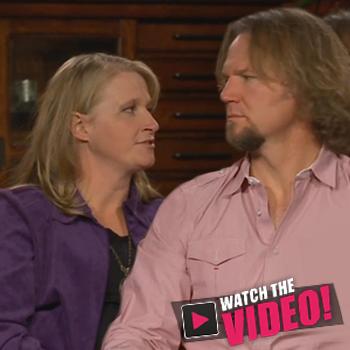 Have the Sister Wives turned into the Duggars?
Now that their children are dating Kody Brown and his wives are setting up dating rules by having a frank "sex talk," and they're just as conservative as Michelle and Jim Bob's "courting" rules.
In this sneak peek of the season premiere of Sister Wives, polygamist dad Kody and his wife Christine lay down the rules with their daughter, Mykelti, and her boyfriend of one month, John, and even though Kody threatens to "clean his gun" while doing so, it's just a cringe worthy lecture.
Article continues below advertisement
"When you kiss, the person that you kiss, their hormones go into your mouth and it registers certain things that will stimulate both the heart and the body for other reasons," Kody explains.
"I am very well aware of how the heart works at 17 and 18 versus at 25," Kody tells the teenage boy and his daughter.
"What we want to prevent as parents are the danger zones. Kissing, holding hands that all leads to broken hearts. If you get too close and you get too physical the nature of it you're going to break up I want to say 'Hey listen have a friendship.'"
The dad of 17 children explains that this isn't just his religious teachings. "I've read enough science on it to feel like science backs me. Kissing is very dangerous."
His advice seems to sink in to John, who says he understands: "Don't go for it until you're ready to go for it."
Sister Wives airs on TLC Sunday at 9/8c.