James Franco And Seth Rogen's New Movie 'The Interview' Could Be An 'Act Of War'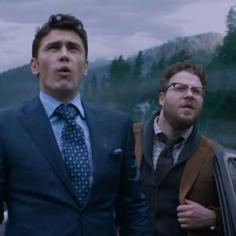 Kim Jong-un isn't too pleased with James Franco and Seth Rogen.
The comedy duo is set to star in the upcoming film The Interview, in which they're recruited by the C.I.A. to assassinate the North Korean leader. But the leader and his administration aren't too pleased with the U.S.'s new project.
A North Korea spokesman was quoted by the state KCNA news agency saying the release of an upcoming Hollywood movie that revolves around the assassination attempt of Kim Jong-Un would be considered an "act of war."
Article continues below advertisement
"Making and releasing a movie on a plot to hurt our top-level leadership is the most blatant act of terrorism and war and will absolutely not be tolerated," the spokesman said.
PHOTOS: The Hottest Stars Of Political Movies – Stripped Down!
The spokesman didn't mention the title of the film, but The Interview, which has an extremely similar plot, is due out in October.
"If the U.S. administration allows and defends the showing of the film, a merciless counter-measure will be taken," the spokesman was quoted as saying.
Will you see The Interview? Do you think North Korea will take action?
Sound off in the comments below!