Jaw-Dropping Photoshop Fail! Kate Upton's Armpit Goes Missing In Weird Harper's Bazaar Photo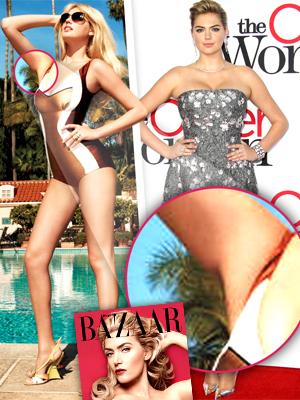 Not even Kate Upton's nearly flawless body can escape a photoshop mishap!
In a new photo posted by Harper's Bazaar, the model's trainer reveals the secrets to her hot body — and little do readers know that one of them apparently involves Photoshopping away her armpit!
In the photo, Upton stands poolside as she flaunts a one-piece bronze bikini. Famous for her curvy figure, Upton appears to have a slimmer bust and waist, as well as skinnier arms and an erased armpit.
Article continues below advertisement
Upton isn't the first celebrity to be the victim of a Photoshop fail. People recently came under fire for lightening Lupita Nyong'o's skin for their "Most Beautiful" cover.
Many took to twitter to make fun of the bizarre image. "According to Harper's Bazaar Kate Upton's armpit just isn't skinny enough," posted MyDailyUK. "That's gotta hurt! Kate Upton Loses part of her arm. Nevermind, it's Photoshop. #HarpersBazaar #Fail #NotBuyingIt," tweeted MommyAndMedia.
Is this one of the worst Photoshop fails you've seen? Tell us in the comments below!