'Men Of The Strip' Star Nate Estimada Dies After Apparent Suicide Plunge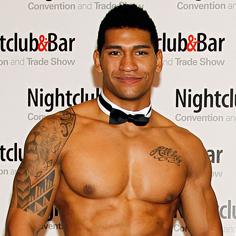 Men of the Strip star and former Chippendales dancer Nate Estimada died tragically on Wednesday night, the Las Vegas Sun first reported.
According to reports, the 25-year-old succumbed to injuries after driving his car off a Los Angeles cliff in an apparent suicide plunge.
"Management & cast of Men of the Strip is extremely saddened at the loss of one of our own," the E! show posted on Facebook on Thursday. "We are heartbroken at the loss of our brother and friend and send our deepest condolences to his family, loved ones, friends and fans."
Article continues below advertisement
Show founder and former 98 Degrees singer Jeff Timmons also remembered Estimada in an Instagram post.
"Natw was a gift to all of us," Timmons, 41, wrote. "He will be missed dearly, and we will keep him in our hearts forever."