Exclusive
Real Housewife, Bad Businesswoman? Lisa Vanderpump Admits 'I'm Not Very Good At' Running Restaurant Company As New Docs Show It's Now Worth Less Than She & Husband Ken Todd Have Invested In It!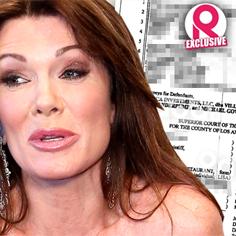 Lisa Vanderpump makes a reported $350,000 per season for appearing on Real Housewives of Beverly Hills, but according to new court documents, she's not as savvy a businesswoman when it comes to her restaurants: Villa Blanca, SUR, and PUMP lounge. In court documents obtained by RadarOnline.com, Vanderpump admits she "is not very good at" the business side of her empire, which is now worth less now than the amount of money her husband invested in it!
Article continues below advertisement
Vanderpump and her husband Ken Todd recently asked a judge in their ongoing sexual harassment lawsuit to "exclude evidence, argument, and/or reference to their personal wealth/financial condition" from court, so as not to influence the jury in their decisions regarding former Villa Blanca employee Karina Bustillo's judgment. As RadarOnline.com has reported, the court recently awarded Bustillos $100,000 in punitive damages.
Bustillos asked the court to make Todd, 56, and Vanderpump, 53, personally liable because, her attorneys claimed in the documents, the amount of the judgment could exceed the value of Blanca Investments, making bankruptcy a way for the pair to avoid paying the six-figure sum.
READ The Shocking Court Documents That Show Just How Much Lisa's Companies Are Worth
According to court documents obtained by RadarOnline.com, Todd and Vanderpump filed "an unaudited Profit and Loss Statement for 2013 claiming Blanca Investments LLC only made around $80,000 per year and that its net worth is a mere $200,000."
Article continues below advertisement
And in her own deposition, Vanderpump seemed similarly bewildered about the operations of her business. Asked about the address for Blanca Investments, she said "Oh I haven't been there, I don't think… I don't really get involved with .. All those kinds of legalities."
Vanderpump was even unclear as to whether her company is named Villa Blanca LLC or Blanca Investments LLC, telling the court, "I'm not very good at all of this. Again, I just have to say I don't know."
Article continues below advertisement
And when asked whether she held board meetings to get to the bottom of such issues, she joked that she and Todd "meet in the bedroom, not the boardroom."
As RadarOnline.com has reported, Bustillos' suit isn't the first time Vanderpump and Todd have had legal trouble thanks to former employees. Back in 2012, they were sued for more than $75,000 by a former dishwasher at Villa Blanca who claimed he had been wrongfully terminated due to "discrimination".
Are you surprised that Vanderpump and Todd don't know the basic information about their business? Or does the success of her restaurants speak for itself? Let us know in the comments!