Exclusive
'That 70s Show' Star Lisa Robin Kelly's Family Suing Rehab Center For Wrongful Death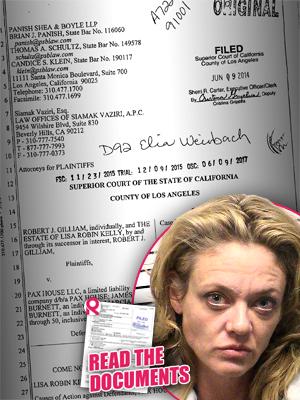 Nearly one year after the tragic death of That 70s Show star Lisa Robin Kelly, RadarOnline.com has exclusively learned the actress' family has filed a wrongful death lawsuit against the rehab center she was enrolled in at the time of her death.
A lawsuit was filed on June 9 on behalf of the Estate of Kelly with the Superior Court of California in Los Angeles against Pax House LLC and the owners, James and Marcia Burnett, claiming negligence resulting in wrongful death.
Article continues below advertisement
READ: Wrongful Death Lawsuit Filed On Behalf Of That 70s Show Star Lisa Robin Kelly
"Plaintiffs are informed and believe, and thereupon allege, that each of the Defendants designated herein as a DOE was, and is, negligent, or in some other actionable manner, responsible for the events and happening hereinafter referred to," the doc reads.
"And thereby negligently, or in some other actionable manner, legally and proximately caused the hereinafter described injuries and damages to Plaintiffs."
Kelly died in her sleep on Aug. 15, 2013 at the age of 43 and by Jan. the coroner determined she died from "multiple drug intoxication" ingested orally.
"Plaintiffs are informed, believe and thereon allege that the SUBJECT INCIDENT occurred on or around August 15, 2013, at the SUBJECT FACILITY, which was approximately three days after the DECEDENT voluntarily sought treatment as a patient from Defendant PAX HOUSE at the SUBJECT FACILITY," the lawsuit reads.
Article continues below advertisement
The lawsuit goes on to allege that the Pax House was "carelessly and negligently owned, managed, and operated" and claims the rehab center was "negligent in the hiring, retention, training, and supervision of their agents, employees, servants, and/or independent contractors whom they assigned to car for patients."
The Estate is seeking damages awarded for past and future medical and professional expenses, legal fees and any "further relief" the court deems "just and proper."