Exclusive
Kris Humphries Scores HUGE Legal Victory In Herpes Lawsuit — Won't Have To Undergo Further Blood Testing For Other STDs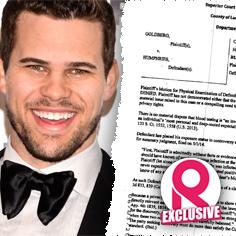 Kim Kardashian's ex-husband, Kris Humphries has scored a huge legal victory in the herpes lawsuit filed against him by one-night stand fling, Kayla Goldberg, RadarOnline.com has learned, as the judge in the case recently ruled that the NBA star doesn't have to undergo further blood tests for other sexually transmitted diseases.
According to the written ruling issued by Judge Gregory Keosian, "Kayla Goldberg's motion for physical examination of Kris Humphries is DENIED. Kayla Goldberg has not demonstrated either that the test results are directly relevant to a material issues​ raised in this case or a compelling need to justify the intrusion into Kris Humphries privacy rights."
Article continues below advertisement
Despite having submitted blood tests proving Humphries didn't have genital herpes, or HIV, Goldberg wanted him tested for the herpes simplex type one, which causes cold sores on or around the mouth.
Goldberg admitted during a deposition that she didn't have the genital strain of the disease, but tested positive for herpes simplex type one.
The cold sore strain of the disease is extremely common, and an estimated 70% of Americans have it according to the Centers for Disease Control.
The judge also added in his ruling, "Kayla Goldberg has not demonstrated either direct relevance of compelling need to justify the intrusion into Kris Humphries privacy rights. Among other claims, Kayla Goldberg alleges a claim for sexual battery which requires proof of Kris Humphries intent to cause a harmful or offensive contact."
"A positive blood test for the antibody taken in 2014 would not lead to a fair resolution of Kayla Goldberg's claims," he continued, "as it is not probative of whether Kris Humphries was positive in 2010. Even if Kris Humphries presently tested positive for the virus, the test result does not establish Kris Humphries condition of knowledge on 2010."
The case is set for a trial management conference on July 18, with the trial scheduled to begin on July 25.