Exclusive
All For Show! 'Political Poison' Kim Kardashian Didn't Donate ANY Money To Candidate She Publicly Supported — And Neither Did These Other Celeb Campaigners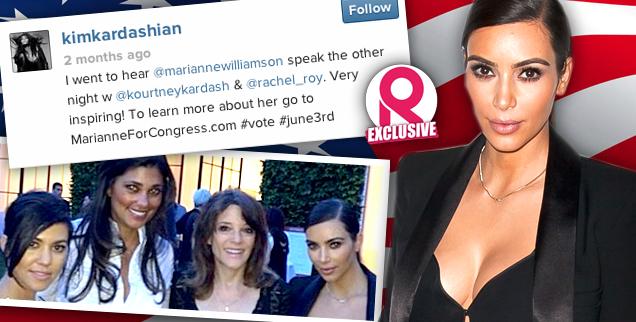 Even her political support is fake! Kim Kardashian's husband has been declared a "jackass" by President Barack Obama and she was shunned by his campaign as well, but now RadarOnline.com has exclusively learned that despite bragging about getting involved in a local race, the sex tape star didn't contribute a single dime to a candidate for whom she was publicly campaigning.
The 33-year-old Mrs. Kanye West was declared "political poison" by campaign insiders during Obama's his last bid for President, but congressional candidate Marianne Williamson still hosted Kardashian and her celebrity friends at a star-studded event in April.
Article continues below advertisement
Kim wrote about the event on her blog, saying that she and sister Kourtney Kardashian "spent some time" with Williamson at her "Congressional press event," and that she was planning to vote for her "at the June 3 Primary."
According to extensive campaign finance reports on the Federal Election Commission website, however, the candidate for California's 33rd Congressional district did not receive any financial support from the reality star — despite many other celebrities ponying up cash.
The list of Hollywood names who did donate to Williamson is a collection of heavyweights in Tinseltown.
Eva Longoria donated $2,600; Melanie Griffith, $2,600; Marcia Cross, $4,600; Rainn Wilson, $500; Amber Valetta, $2,600; Nancy Sinatra, $1,100; Diane Lane, $1,000; Holly Robinson Peete, $300; Candy Spelling, $500; and even Ben & Jerry's founder Ben Cohen gave a cool $2,600 according to the campaign finance reports.
Article continues below advertisement
And while neither Kardashian sister donated to Williamson, neither did the event organizer Nicole Richie, singer Katy Perry or designer Rachel Roy, all of whom were proudly sharing pictures from the evening and posing with the candidate for photos.
And when it comes to putting her money where her mouth is, politically, Kim's husband Kanye West is even worse.
Her new husband has only donated a paltry $1,000 to the 2012 Obama Victory Fund according to the FEC website.
In true Kardashian fashion, however, Kim turned the Williamson event into her own personal publicity opp, writing at the end of her political blog "For this event I was wearing Faith Connexion Paris pants and blazer, Kiki de Montparnasse bodysuit and my fave Tom Ford heels! Xo."
Does Kim Kardashian's endorsement of a candidate make you want to vote for them? Sound off in comments below.