Cheater's Justice! Georgia Teen Gets Back At Ex With Meme-Laden Chat That Goes Viral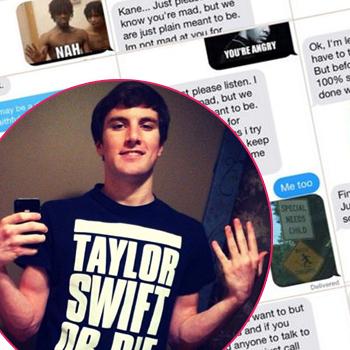 Meet Kane Zipperman.
The 17-year-old Canton, Ga. native is the Internet's latest celebrity after blowing off an unfaithful ex with a perfectly-posted series of memes in which he said, in very humorous tones, "It's over."
At one point, the ex groveled, "It was just one guy. Cmon Kane . . . Please . . . I miss you . . . No guy has ever treated me as good as you . . . You are literally the sweetest and cutest guy on the planet. Will you please be mine again . . . ?"
Article continues below advertisement
His response? A Mila Kunis meme in which Ashton Kutcher's bride-to-be proclaimed, "No. Go f**** yourself."
Later, when she complained about his public posting, he turned her aforementioned excuse around on her, stating, "It was just one tweet."
The conversation also included references from everyone to the Jonas Brothers to Drake, and has substantially raised Zipperman's online presence, as, as a result of his witty banter, the tweet has been favorited more than 73,000 times and favorited more than 91,000 times.