Jennifer's Heartbreak: Aniston's Kid Brother May Have Beaten Her Down The Aisle AND Could Be Expecting His First Child!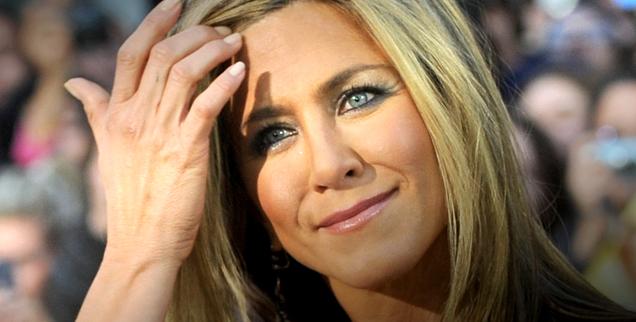 Jennifer Aniston has been engaged to longtime love Justin Theroux for nearly two years, but her much younger half-brother, AJ, is telling pals he's already married— and it looks like there's a baby on the way, the National ENQUIRER is exclusively reporting.
While Jennifer, 45, has yet to walk down the aisle with Theroux, 24-year-old AJ's girlfriend, young makeup artist and tattoo model Adriane Hallek announced on her Facebook page that she married her artist beau on January 29.
Article continues below advertisement
"They seem like a really good couple and they look happy together," says a friend of the newlyweds, who share a home in Santa Cruz, Calif.
And in news that could upset the childless actress, the ENQUIRER also caught Hallek, 24, walking out of a Los Angeles medical clinic with an ultrasound in hand.
According to a family insider, Jennifer and AJ's father, Days of Our Lives actor John Aniston, is growing anxious for grandchildren.
"Jen's dad…knows that if she doesn't hurry up and get hitched, he might not live long enough to see her kids," the source says of the 80-year-old, who suffers from health issues.
"It would be ironic if AJ makes his dad a grandfather before his sister Jennifer does," the insider continues. "I don't think anyone is expecting that!"