'I Went To Get Nip-Tucked & I Got Nip-F*cked!' Real Housewives Husbands Fix Hollywood's Worst Plastic Surgery On New Reality Show 'Botched' — Watch A Shocking Preview!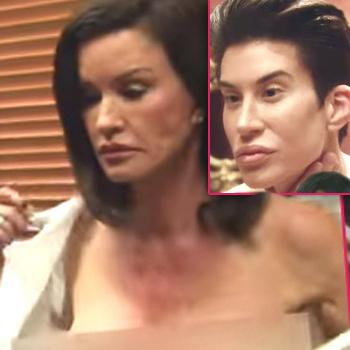 For anyone who elects to have plastic surgery, there's nothing worse than waking up with a "botched" procedure.
But don't worry – there are two Dr. Fix-Its in Hollywood that can repair everything – and they're coming to E!
Starring Dr. Terry Dubrow, or Real Housewives of Orange County's Heather Dubrow's other half and Dr. Paul Nassif, Real Housewives of Beverly Hills' Adrienne Maloof's ex-husband, Botched will take the worst cases of plastic-surgery-gone-wrong and try to fix them.
Article continues below advertisement
"Help is on the way," the preview promises.
There's apparently no shortage of botched procedures, and from the looks of it, they're all over the map. One patient even has an upside-down breast implant.
The doctors aren't the only familiar faces –Janice Dickinson makes an appearance, so we can expect to see her frequenting the plastic surgeons' offices to fix something at some point in the season.
Watch the preview for Botched, which premieres June 24 on E!
PRODUCTION EMBED VIDEO
youtube