Barack & Michelle Obama Headed For Splitsville? First Couple Eyeing $5 Million Home With Separate Bedrooms For After Their Impending 2016 Divorce: Source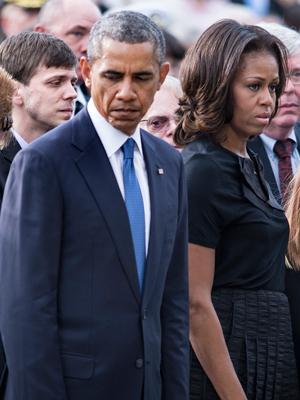 Article continues below advertisement
"Even after the split, they plan to maintain family ties and are considering buying the house," a close source told the ENQUIRER.
"It's a 'neutral' place so they can all meet there despite Michelle and Barack's differences. The Obamas learned of the lavish Rancho Mirage residence when they visited the area over the Father's Day holiday with daughter Malia."
What's more, the report claims that Barack walked out on the family on Father's Day in favor of a five-hour golf outing at a private course.
And there was more drifting between the couple that weekend, with The President spending most of the Saturday at a Democratic fundraiser in Laguna Beach and then giving a commencement speech in Irvine at the University of California — along with more golfing once back in Palm Springs.
The ENQUIRER was first to report that Barack and Michelle are on the rocks, alleging the First Lady has already met with divorce lawyers.
Article continues below advertisement
So while Barack will reportedly return to his native Hawaii and Michelle will stay in Washington, D.C., the five-bedroom, 8,000 square-foot Rancho Mirage estate will be the perfect meeting place when they need family time.
"During visits they can all feel at home there, and neither the President nor Michelle will feel they're invading the other's turf," the source said.
And no doubt why Barack loves the home — it features its own tunnel to a golf course!
For more on Barack and Michelle's impending split and the Palm Springs abode they're eyeing, pick up the latest issue of National ENQUIRER, on newsstands everywhere Thursday.