No Black Women On SNL? Kerry Washington Brings On Oprah & Michelle Obama To Tackle The Problem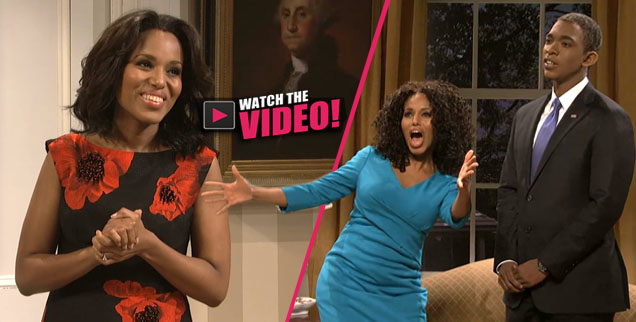 Kerry Washington took on the lack of diversity on Saturday Night Live in a way that made the show look at itself.
With not a single black woman in the cast, the Scandal star addressed the issue in the cold open, pointing out that she'd have to play every African-American female character they needed for the bit about celebrities attending a White House dinner.
With that, Washington morphed into Michelle Obama, opposite Jay Pharaoh as the President. She then did a spot-on Oprah Winfrey impersonation.
Article continues below advertisement
Washington was about to transition into Beyoncé when the Rev. Al Sharpton stepped into the room.
"What have we learned from this sketch?" the civil rights advocate asked. "As usual, nothing!"
SNL has only ever had four black women in the cast in its 38 years, and none since 2007.
A classic SNL-style scroll on the screen let the audience know the producers were aware of the problem:
"We agree this is not an ideal situation and look forward to rectifying it in the future - unless, of course, we fall in love with another white guy first."