Why Do Good Girls Like Bad Boys? Tori Spelling Admits She's 'Wildly Attracted' To Love Rat Hubby Dean McDermott On 'True Tori'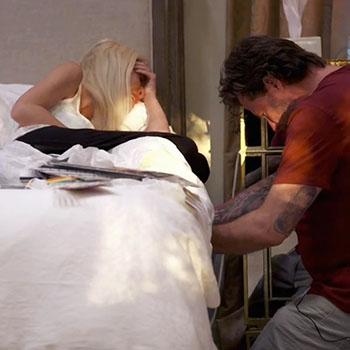 Tori Spelling just can't quit Dean McDermott.
On Tuesday night's episode of her Lifetime reality show True Tori, the former Beverly Hills 90210 star confronted her husband again about his two-day affair last year in Toronto with Emily Goodhand.
But despite the deep wounds McDermott's cheating had caused, and the stress of the situation sending her to the hospital, it looked like Spelling wanted to keep him!
Article continues below advertisement
"I'm wildly attracted to you and that's the truth," she told the actor at the end of an emotionally bruising couples' therapy session with Dr. Ann Wexler.
McDermott, who has beaten himself up throughout the TV series, replied, "I don't know why."
"In spite of everything, she still loves you," Dr. Wexler told him.
Spelling burst into tears when Dr. Wexler said some couples can get past a cheating incident and have a great life together — and some can't. Hollywood's poor little rich girl sobbed, "I deserve a great life," as the show ended and McDermott hugged her close.
But the troubled pair's apparent reconciliation came after an episode full of drama.
Earlier in the couples' therapy session, as RadarOnline.com has previously reported, McDermott justified his infidelity by telling Spelling he didn't feel validated because they didn't make love the night before he left for Toronto.
"Stop! What are you talking about? How dare you! Our sex life couldn't have been better," Tori raged.
Article continues below advertisement
She also grilled McDermott about the details of his affair with Goodhand, wondering if the encounter had started with flirting and questioning why "you gave a girl a key to your suite to f*ck you.
"You don't know how that came to be?"
McDermott pointed out, "I'm a f*cking alcoholic. My mind works in a f*cking weird way."
He stormed out of couples therapy claiming he didn't want to talk about his sex life but later came back to conclude the session.
"I just want to know more," Spelling told him about his two-night stand with Goodhand. "I don't understand why it happened a second night."
He shrugged, "I'd already risked my marriage; I do it again because it's right there."
At the start of the episode, viewers saw how Spelling was rushed to the hospital with abdominal pains and a migraine in mid-April. McDermott visited her the next day and he fed her from a hospital tray.
Article continues below advertisement
She stayed in the hospital for nine days while McDermott took care of the kids.
Returning home, Spelling said her husband had stepped up to the plate and nurtured her.
She told the cameras, "I told him 'I'm so mad at you but I'm so in love with you.' I hate him and love him all at the same time and it's all very confusing."
As RadarOnline.com has already reported, Spelling had a screaming crying fit on an explosive scene on True Tori and on Tuesday night, viewers saw it all happened after she put together family scrapbooks for their four kids -- Liam, 7, Stella 5, Hattie 2, and Finn, 18 months.
"When I first saw your dad, I knew I was going to marry him," she said to Liam.
When she began to cry, the kids were confused, leading McDermott to rush them out of the room. Then Spelling unloaded on her husband, throwing the scrapbooks on the floor and shouting about how her heart was ripped out.
McDermott sighed, "I'm sorry I ruined our fairy tale romance. I still believe in us. I ruined everything!"
"You didn't go through sh*t! There's no happy ending. I don't believe in it anymore," Spelling fumed.
Still, at the end of the episode, they were in each other's arms!