Exclusive
Tori Spelling Ordered Nannies To Take Time Off While She Was Hospitalized So Cheating Husband Would Take Care Of Four Kids Alone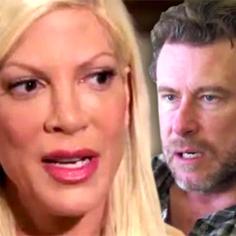 Tori Spelling gave her two family nannies time off while she was hospitalized recently with a migraine for six days, and cheating husband Dean McDermott was left to care for their four children with no help, RadarOnline.com is exclusively reporting.
Viewers of the former 90210 star's train wreck reality show True Tori on Tuesday night saw McDermott complaining about how hard it was to take care of four children all alone. McDermott heaped praise on his wife for taking care of their brood while he was in rehab earlier this year.
Article continues below advertisement
However, as RadarOnline.com previously reported, Spelling had the help of two nannies while her hubby was getting treatment. Not surprising, the nannies have never been mentioned on True Tori.
"Dean was forced to take care of the kids on his own, at Tori's direction. They employ two nannies, one part-time, who takes Liam and Stella to school, picks them up, and helps with homework," the source told RadarOnline.com.
"The other nanny is full time and helps Tori at home with the younger children, Hattie and Finn. It was so typical of Tori to do, and extremely passive aggressive. She also told the crew filming to not help Dean at all with the kids, as they have done when Tori is home. As soon as Tori came home, the nannies reappeared.
"Once again it's all about Tori being the victim, and not accepting any responsibility for her role in the breakdown of the marriage. Yes, Dean cheated, but they have had problems for years."
Although McDermott wanted to go with Spelling to the hospital during her visit last month, "but she wasn't going to allow it. Tori demanded that he take care of the kids....there is absolutely no reason why Dean couldn't have gone with her, or visited more. He very much wanted to, and the fact that the producer was calling to give him updates speaks volumes about the status of their relationship," the source added.
"The two of them are extremely messed up, and have tons of insecurities… The fact they have four innocent kids that they are exposing to all of this chaos with the cameras is just selfish and disgusting."