'True Tori' Tables Are Turned!: With Spelling Hospitalized, Cheating Husband Dean McDermott Bemoans 'Taking Care Of Four Kids Is So Hard!'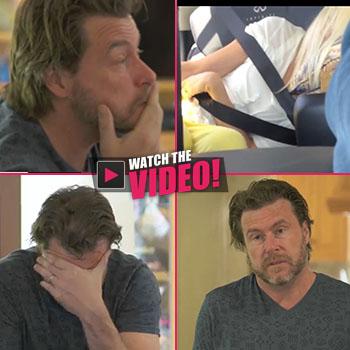 Article continues below advertisement
But, as RadarOnline.com readers know, during True Tori, Spelling, 40, was hospitalized at a Los Angeles hospital in mid-April, suffering from migraines and an ulcer brought on by the extreme stress of 47-year-old McDermott's infidelity.
"Now the tables are turned," McDermott moans to the cameras in the new video. "Tori's in the hospital and I'm getting a taste of what she went through. Taking care of four kids, it's just so hard. I don't know how she got through it."
True Tori viewers will see all the Spelling medical drama unfold as McDermott says, "It all started last night. She had severe abdominal pains. She was buckled over. I've never seen it that bad before and then she started getting severe migraines.
"So that's when it's time to go to the hospital and I can't be there with her because paparazzi sit right out there," says McDermott, gesturing to the photographers outside the couple's L.A. home.
Article continues below advertisement
"We had to sneak her out of here. We had to sneak her into the hospital and then somebody had to watch the kids so I just had to sit here by the phone and wait for a text or call to see what's going on."
A disheveled McDermott sighed deeply and wiped his face as he stood by the phone, saying, "Oh, come on! Call me, call me, call me, call me!"
Finally, the phone rings and the couple's friend Bobby says, "She's in a lot of pain. She was shaking but we got her on an IV. She did talk about being dehydrated. I'm hoping to have more information soon."
A relieved McDermott replies, "Tell her I love her and I'm thinking of her and I'm really worried about her and thank you for doing this, Bobby. This really sucks that I can't be there."
But what also sucks, apparently, is being Mr. Mom, as the cameras show a stressed-out Dean trying to make beds and care for the kids while supermom Tori is away!
True Tori airs Tuesday nights on Lifetime at 10 p.m. PT/ET.
radar_embed service=5min.com src="http://pshared.5min.com/Scripts/PlayerSeed.js?sid=1126&width=570&height=351&playList=518239028"