Exclusive
Tamra Barney Under Fire! 'RHOC' Star Ripped For 'Sick' Gun Post — 'I Wouldn't Waste A Bullet' On Nemesis Gretchen Rossi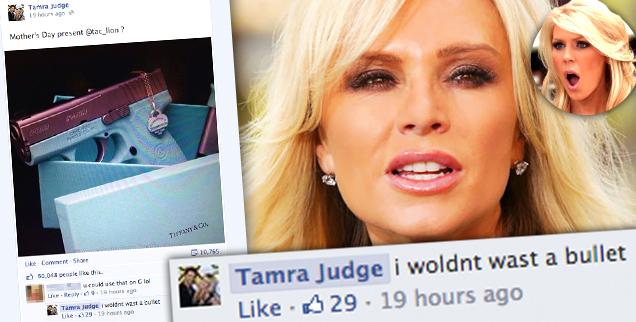 Tamra Barney's feud with Gretchen Rossi took a dark and dangerous turn this week when Barney posted a picture of a gun and made a callous comment about not wasting a "bullet" on her former co-star. Only RadarOnline.com has all the details about the "sick" post that has fans slamming Barney for advocating "violence."
The Real Housewives of Orange County stars have been feuding off-screen in recent weeks due to Rossi's unsolicited comments on Barney's bitter custody battle with her ex-husband, Simon Barney, 50.
Article continues below advertisement
And on Thursday, Barney took things up a notch by posting a Facebook picture of a two-toned 9mm gun painted Tiffany & Co. blue.
"Mother's Day present?" Barney, 46, wrote about the weapon, draped with a Tiffany & Co. necklace.
The first comment on the post was a snarky dig at her former RHOC co-star, saying, "u could use that on G lol," presumably referring to Rossi. Barney replied, "i woldnt wast sica bullet."
The backlash was swift against Barney, with one commenter writing, "Wow, thats horrible Tamra. First you advertise a gun then you engage a comment regarding shooting someone and respond with I wouldnt waste a bullet. Nice...real nice. No wonder I stopped watching the show. Nice to see you advocate violence."
Faked Scenes, Lies & Payoffs – The Ultimate Guide To Reality TV Shows
Another follower weighed in saying, "Yes I agree.....find it sick really. All need to grow up. I hate guns reminds me of all the innocent kids and women slaughtered each day across the world and here you are bragging about them. Sitting here shaking my head. Awful."
The gun is reportedly NOT made by the respected jewelry company but by Kilo guns, whom Tiffany & Co. have asked to stop using their patented blue color.
When Barney was informed that she couldn't buy the firearm at the same place she could buy a silver keychain she clearly was disappointed.
"Oh well its not real…I still want it," she wrote.
What do you think about the feud? Let us know in the comments!