Six Brothers Arrested For Alleged Child Abuse -- Parents Also Charged Because They Allegedly 'Witnessed The Abuse' And Did Nothing!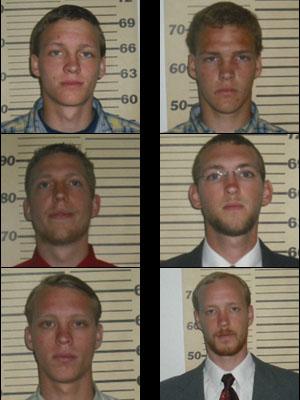 Six brothers and their parents have been charged after the boys allegedly abused a young girl for a decade and their parents did nothing to stop it, RadarOnline.com is reporting.
Eric, Jon, Matthew, Nathaniel, Benjamin and Aaron Jackson were arrested on May 6 and each charged by the Perquimans County Sheriff in North Carolina with three to five counts of rape and their parents, John and Nita, were also arrested and charged because they witnessed the abuse and didn't intervene.
Article continues below advertisement
The boys, ranging in age from 18 to 27, were all homeschooled and an investigation was started when one of the brothers confessed their abuses to a church pastor in 2012.
"Personally, I lay the blame on the parents, and their charges are less than what the boys are going to get," Sheriff Eric Tilley told WTKR.
"It's their responsibilities to raise those kids and somewhere along the line, they failed."
The brothers turned themselves in, but were said to be emotionless.
Man Charged With Kidnapping, Murder Of Tenn. Woman Holly Bobo Pleads Not Guilty
The girl at the center of the abuse is now 16-years-old and now lives in Colorado with her family, and she has spoken with Child Protective Services about the alleged abuse.
The parents are facing charges of felony child neglect and have been released on $15,000 bond each, while the six brothers are currently being held on $150,000 bond each while they await their arraignment.