Sherri Shepherd's Husband Files For Separation -- Demands Full Custody Of Their Unborn Surrogate Child!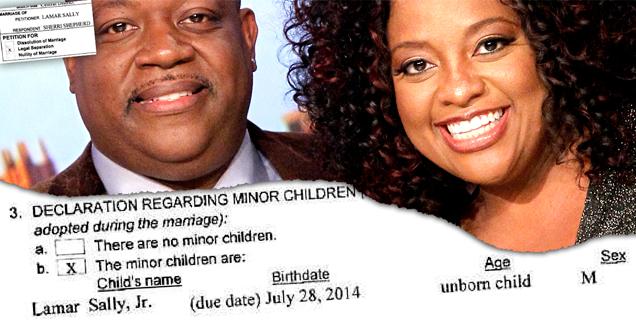 Not only did Sherri Shepherd's husband file for a separation earlier this month, but Lamar Sally's filing revealed an explosive secret that the two are expecting a son via a surrogate and he wants full custody!
Filed on May 2 in Los Angeles, Sally filed after nearly three years of marriage to The View co-host citing irreconcilable differences — but the real bombshell was listed under the declaration of minor children in which the TV writer listed an unborn son.
Article continues below advertisement
EXCLUSIVE DOCUMENTS: Sherri Shepherd's Husband Files For Divorce, Wants Custody Of Unborn Surrogate Child
Listed as Lamar Sally Jr., a due date of July 28, 2014 is listed for the unborn child.
A source previously told Radar of the couple's nasty split that while Shepherd, 47, was desperate for another child, she didn't believe Sally, 43, would step up as a father figure.
"Sherri has a full time nanny, who drives Jeffrey to school every day and picks him up in the afternoon. This has been going on for years, and Lamar doesn't even offer to help. It is unfortunate.
On top of custody, Sally is also requesting spousal support from Shepherd and asking that the Beauty Shop actress pay his legal fees.
Scorned Exes Tell All: Inside Hollywood's Ugliest Splits
This will be the second divorce for Shepherd, who divorced ex Jeff Tarpley in 2009 after having one son, Jeffrey, with him.