Screenwriter To George Lucas: 'You Stole My Script!'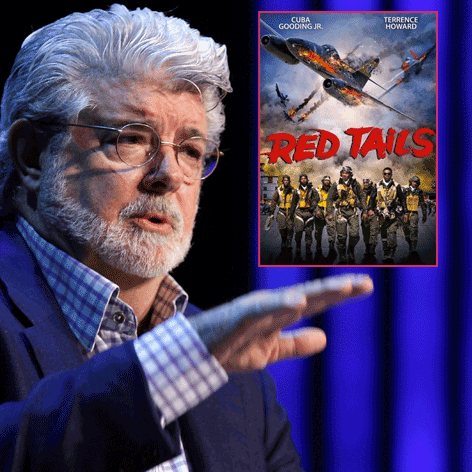 Many say Star Wars director George Lucas has the biggest imagination in Hollywood— but one screenwriter disagrees.
Washington-based writer John Dudley filed a copyright infringement lawsuit in December 2013, alleging the bigwig producer snatched his 1996 script, Red Tails, and in 2012, turned it into a $50 million action film of the same name starring Cuba Gooding Jr. and Terrence Howard.
After Dudley's lawyer submitted the script to talent agency ICM, "George Lucas, the executive producer of the motion picture, copied from the original work," court documents read.
Article continues below advertisement
Though he admits many of the movie's scenes were not completely identical to those in his script, Dudley claims "80% of the motion picture screen time includes, or otherwise derives from, the original work."
Dudley is seeking a financial sum for damages, and an injunction preventing Lucas and his associates from selling, distributing or marketing the film.
But Lucas denies stealing Dudley's script, claiming any similarities between the script and finished film are due to "conventions or cliches of story-telling, script-writing, or movie-making," documents say.