Exclusive
'Departed' No More? Robert Downey Jr. Desperately Trying To Woo Jack Nicholson Out Of Retirement For Sherlock Holmes Role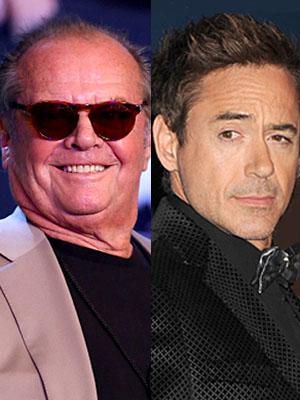 Robert Downey Jr. is desperately trying to woo Jack Nicholson out of retirement for a role in his upcoming movie Sherlock Holmes 3, RadarOnline.com has learned.
"Bob's determined to be the one to bring back Jack!" a source revealed, adding that Downey will even lower his own salary to lure Nicholson with big bucks.
Nicholson, 77, has spent most of his time on the golf course after deciding to retire last year, as RadarOnline.com exclusively reported.
Article continues below advertisement
But now, a big fan is banging on his door, a source said.
"Having just announced Sherlock Holmes 3, Bob is begging Jack to play a role in the film," said the source.
And it's not the first time, as Downey, 49, tried to get the movie legend to play the role of his father in The Judge. However, Robert Duvall ultimately appeared in the film that will be released this fall.
Still, Downey hasn't given up on working with his idol and "Jack hasn't said no, which is very encouraging to Bob," the source said. "But he needs Jack more than Jack needs him, so there are a lot of emails, phone calls and gifts going Jack's way."
Nicholson received raves for the 2006 crime film The Departed and his comedy The Bucket List in 2007 was a major comedy smash. But in 2010, he appeared in the Reese Witherspoon box office flop How Do You Know.
After that, sources told RadarOnline.com that Nicholson stepped away from acting because he could no longer remember his lines. Still, the One Flew Over The Cuckoo's Nest Oscar winner DOES recall how much money he used to rake in as one of Hollywood's most popular actors.