Peaches Geldof Heroin Death: Criminal Investigation Launched By Authorities Searching For Drug Dealer, Husband May Be Questioned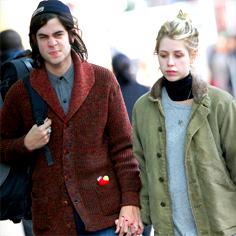 A criminal investigation has been opened following Peaches Geldof's tragic death and her husband may be questioned after it was revealed that she took heroin before dying.
The 25-year-old was found by Thomas Cohen in their home, reportedly "slumped across a spare bed in their home, one leg dangling off the side," according to the MailOnline.
Police confirmed her death was indeed drug-related, as her "recent use of heroin," and "the levels identified" in subsequent tests, "were likely to have played a role in her death."
Article continues below advertisement
Now they have reportedly opened a probe to determine who provided singer 's daughter with the heroin.
Apparently no drug-taking paraphernalia was found in her home, leading to speculation that the scene may have been cleaned up before authorities arrived.
Officers may be speaking with Cohan, who was the first person to find her body and alerted the authorities, telling them he could not revive his wife and the mother of their two children.
A source told The Sun that Peaches has been "secretly visiting a drug rehab clinic near her Kent home in the weeks before her death," and that she was afraid that Cohen would find out.
The Life & Times Of Peaches Geldof — In Photos
The source said Peaches "was on a prescription for 20mg of heroin substitute methadone and had to visit the clinic weekly."
She also had become obsessed with Elliott Smith, an American musician who struggled with drug and alcohol addictions and committed suicide in 2003. One of his songs was played at her funeral.
The authorities refused to comment on questioning with Cohen, saying: "No arrests and no interviews under caution."