Olivia Newton-John's Troubled Daughter Chloe Lattanzi Falls Off The Wagon -- 'There Is A Plan To Hold an Intervention'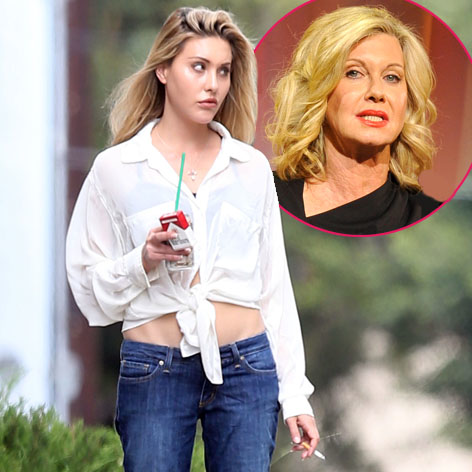 Olivia Newton-John's troubled daughter Chloe Lattanzi has fallen off the wagon, RadarOnline.com has learned.
According to a new report, the Grease songbird was shocked on May 13 when her only child, Lattanzi, 28, posted on Instagram, "I went out last night and pissed my sobriety away. For anyone out there struggling with addiction, I feel you."
Sources told Closer that Newton-John, 65, immediately rushed to her daughter's side—and now she's taking drastic action: "There is a plan to hold an intervention."
Article continues below advertisement
Those involved in urging Lattanzi into rehab will include her father, Newton-John's ex-husband Matt Lattanzi, 55, a source told the magazine, showing, "how serious Chloe's situation is."
As RadarOnline.com has reported, wannabe songwriter Chloe, who attends the Songwriting School of Los Angeles, went into a sober living facility last year and did a magazine interview about her downward spiral into abusing drugs and alcohol.
And last fall, Chloe admitted to Entertainment Tonight that before getting sober, her life was "doing blow in the morning and doing it for lunch and dinner and kind of not sleeping."
She's also had other problems: In 2008, Newton-John revealed her daughter was recovering from anorexia.