Tragic Downfall: Olivia Newton's John Daughter, Chloe Lattanzi, Reveals Cocaine & Booze Addiction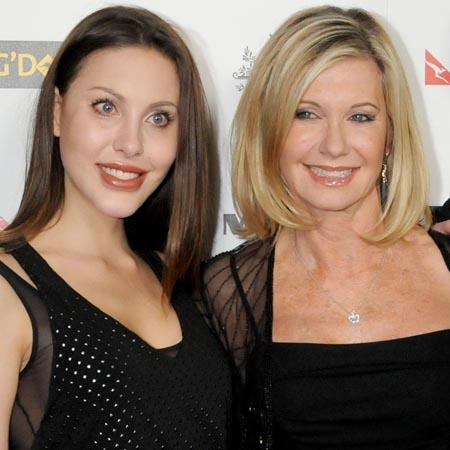 Olivia Newton John's daughter has dropped the shocking news that she has been suffering from a four year battle with depression and anxiety and after becoming addicted to cocaine and alcohol.
Chloe Lattanzi, 27, has spent the last seven months in a sober living facility and in a new interview with Australian magazine Woman's Day she said that when she was living in Los Angeles she began her downward spiral abusing drugs and alcohol.
Article continues below advertisement
"By this point I had a severe panic disorder where out of the blue my heart rate would jack up and you would be shaky and dizzy and you would think you were going to die."
"Telling your mum you have a problem with alcohol and cocaine is not easy," she admitted.
Chloe described what would happen with her panic attacks when she would drink and do coke.
"I started to get into the party scene, drinking every night, and then before long I got introduced to cocaine and all of a sudden the combination of those two things took away all the fear and depression and that is when the cycle began."
Chloe told Women's Day that she was starting to spend $120 every two days on drugs.
"I was using most days and nights. And not only was I doing coke, I was drinking vodka heavily also. I had to combine the two.
"I was so out of it during this time I don't even remember waking up most mornings. I'm honestly surprised I did not have a heart attack."
Chloe finally checked into rehab in 2011, but after her 30-day treatment she fell back into her old addictions.
Article continues below advertisement
"Before long I was using again and was trying to hide it from James Driskill because I was terrified he would leave me."
Chloe revealed that she hid her subsequent drug and alcohol use from her loved ones.
She said it was a night with her mother in the United States when she got drunk and confessed to Olivia that she needed help. The Grease star recruited Dr. Drew Pinsky to help her daughter and Chloe checked in to rehab and then sober living for seven months.
"I honestly felt that for the first time in my life there was hope," she said.
"I am really proud of how far I've come and so are all of my family and James."
"Just recently I had a conversation with my mum about all I had been through and she told me she was really proud of me for not having secrets anymore, for being open and honest about what I was going through."