Olivia Newton John's Daughter Chloe Calls Off Wedding -- He's Already Married!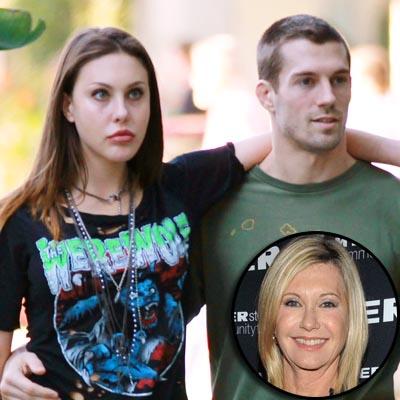 UPDATE: RadarOnline.com has learned that court documents confirm that James Driskill is still legally married to Nina Hauser but he filed for divorce on July 7, 2011.
Up until May, he was listed as living with Nina at their Santa Monica home, but in the months since then he is down as having a different Santa Monica address with Chloe.
Singer Chloe Lattanzi has cancelled her wedding to fiance James Driskill just weeks before she was due to walk down the aisle because she found out he's still married.
Article continues below advertisement
RadarOnline.com has learned that Olivia Newton-John's only child pulled the plug on the wedding plans after she was tipped off that her fiance was leading a double life, reported New Idea Magazine in Australia.
"Chloe is devastated and so is her mum," a family friend told New Idea.
Lattanzi, 25, had been dating martial arts instructor Driskill since 2009 and got engaged last year, much to the delight of the troubled singer's parents.
Her actor dad Matt Lattanzi praised Driskill for "saving her from a tortured place," after his daughter had battled emotional problems including anorexia.
"Right now she is not in that place, especially because of this very balanced relationship she's in (with James Driskill). In fact, I think she is able to express herself about these dark places with more confidence."
Article continues below advertisement
When the couple first met, Driskill had been separated from his wife of four years, Nina, for four months, but Chloe's friend has now broken the news to her that Nina and James never divorced and still lived together for financial reasons.
Driskill, who teaches martial arts at the Kron Gracie Jiu Jitsu Academy in Los Angeles, hasn't tried to hide his relationship with Lattanzi and there are romantic photos of the pair on his Facebook page, which gives no indication that he is already married.