Exclusive
Mickey Rooney's Body Won't Rest In Peace -- Battle Rages On Over His Will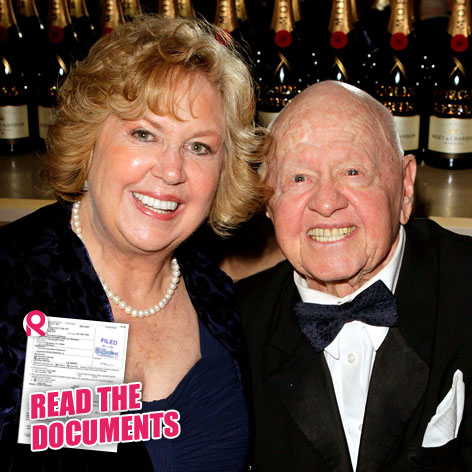 Article continues below advertisement
Jan, her son Chris Aber and eight surviving children were all cut out of the will even though Jan and Rooney were married for 36 years and Chris had looked after Mickey for over three decades. They claim that a will he made out 11 years ago is still valid, which would make Jan the sole heir to his fortune.
A court hearing is now set to take place on May 12 at 8:30 a.m., according to documents obtained by RadarOnline.com.
EXCLUSIVE DOCUMENTS: Petition For Probate Of Mickey Rooney's Estate
The Hollywood legend's attorney and conservator Michael Augustine filed a petition for probate to the Los Angeles Superior Court, and it requests that he "be appointed as personal representative to administer the estate of the decedent. The petition requests the decedent's Will and codicils, if any, be admitted to probate."
The petition goes onto say, "If you object to the granting of the petition, you should appear at the hearing and state your objections or file written objections with the court before the hearing. Your appearance may be in person or by your attorney."
Article continues below advertisement
According to a family source, Jan is very confident that she will get the will null and voided. The same insider also said that son Chris will be seeking monies owed to him, as a creditor of Rooney. He's claiming that he's owed up to $75,000 from Rooney on unpaid hotel and restaurant bills he shelled out during touring in the last decade.
"The lawyers have called the latest will 'theatrical', in their words, and said that it has no credibility. They reckon that it doesn't stand up to Californian Law, as Mickey was 93 years old when he signed the document and under conservatorship," the insider told RadarOnline.com.
"They think it should be dismissed. They're painting a picture of a couple still very much in love. Mickey never officially separated from Jan – it was only because she chose to live with Chris and Mickey with Mark that this whole row started in the first place."
You Can Sue For That? The 53 Wackiest Lawsuits
The source continued, "The ace up their sleeve is that they're going to expose just how much of Mickey's millions has gone on lawyers fees and the same people who are meant to be protecting him now.
Article continues below advertisement
"Jan and Chris are claiming they have documents which state, that just before Mickey died, he was paid $300,000 for his role in Night of the Museum 3, so where did that money go? As only weeks later, he was dead, owed a bunch of creditors money, and had an estate worth $18,000."
According to the California Law Probate Code, "The contestants of the will have the burden of proof of lack of testamentary intent or capacity, undue influence, fraud, duress, mistake, or revocation."
Ordinarily, anyone contesting a will, after receiving notice of the petition to administer the estate, must bring their objections at, or before the date, of the hearing on the petition to administer the estate. In California, this is usually 30 days.
DOCUMENTS: Mickey Rooney's Trust
By the time of his death at 93, the actor's estate had been reduced to $18,000, which he blamed on elder abuse and financial mismanagement by stepson Chris.
The will was signed by Rooney on March 11, 2014, and filed to the Los Angeles Superior Court on April 8, 2014.
Just over a decade earlier, on January 15, 2003, Jan and Rooney signed over all their assets to 'The Rooney Trust' in a legally binding contract, which included all of Rooney and Jan's assets.
Stay with RadarOnline.com as the story develops…