Klueless Kardashian! Kim Under Fire After Admitting She Didn't Realize Racism Still Existed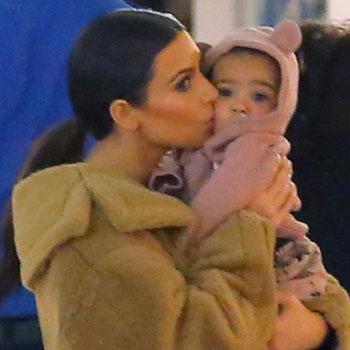 New mom Kim Kardashian took a break from wedding planning on Wednesday to pen an uncharacteristically introspective blog post about racism in America, admitting she had turned a blind eye to discrimination until her daughter North was born. But fans were less than impressed.
In an essay titled "On My Mind," Kardashian cited that racism is still alive and says she worries about raising daughter.
"To be honest, before I had North, I never really gave racism or discrimination a lot of thought," Kardashian wrote on her personal blog Wednesday. "It is obviously a topic that Kanye West is passionate about, but I guess it was easier for me to believe that it was someone else's battle."
Article continues below advertisement
The Keeping Up with the Kardashians star confessed she doesn't want her daughter and other children " to grow up in a world where they are judged by the color of their skin, or their gender, or their sexual orientation."
"But recently, I've read and personally experienced some incidents that have sickened me and made me take notice. I realize that racism and discrimination are still alive, and just as hateful and deadly as they ever have been," she added.
Despite the well-intended post, Kardashian came under fire from some readers.
In the comments section of her blog, one person wrote, "I can't believe all the praise you are getting over this empty and meaningless statement. You don't even outline a game plan on how you're going to help. You just acknowledge that it's a problem. Um, yeah, you're in your mid thirties, way to figure it out."
Another posted: "She is concerned NOW about racism and never thought about it?"