Exclusive
Country Cutie! See Inside Kelly Clarkson's $3K Animal-Themed Registry For Baby Girl — PLUS Her Due Date REVEALED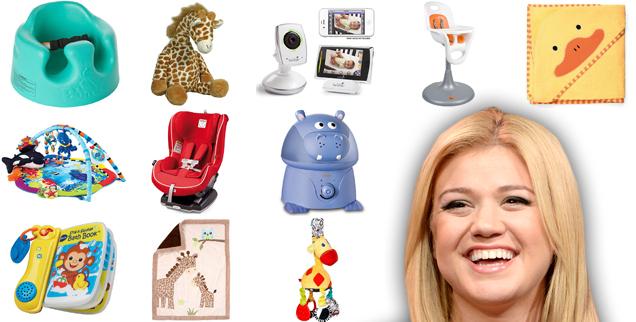 Kelly Clarkson decided to sidestep tradition when she eloped with husband Brandon Blackstock last October. But now that it's time to celebrate her firstborn, she's set up a typical baby registry so her nearest and dearest can share in her joy — and shower her with gifts galore. But time is running out for those family and friends to make their purchases: RadarOnline.com can exclusively reveal that according to the registry, Clarkson's little girl is due June 18!
Article continues below advertisement
Clarkson, who spilled in January that she's expecting a daughter, recently signed up for a trove of goodies at Babies R Us, a source confirmed to Radar, and by the looks of the new addition's wardrobe, Clarkson's country bumpkin will have the most adorable new duds.
Still, the "Stronger" songstress wasn't thinking pink when she picked out potential gifts. She opted for more unisex goodies with an emphasis on animals — from monkeys and zebras to ducks and owls.
On the 83-gift list totaling nearly $3,000, even grandma Reba McEntire and aunts weren't left out, with 'I Love My Grandma' and 'I Love My Aunt' giraffe and turtle bibs.
The 32-year-old, who was spotted with her growing baby bump for the first time last month in Nashville, Tenn., mixed in must-have baby basics — like Elmo toothpaste and a breast pump — with fun items like an octopus floating bath thermometer, penguin purifier, hippo humidifier, and a baby sign language book.
The Grammy-winner will even be able to sing her little one to sleep with a Baby Einstein lullaby CD and baby Blackstock can hone her musical chops with a rainbow xylophone.
But so far, the newest addition to the famous family is already getting the Cookie Monster puppet towel and fire engine red car seat.
Clarkson has already gotten a jumpstart on motherhood now that she's a stepmom to her music manager hubby's two children -- Savannah, 12, and Seth, 8 -- from a previous marriage.