Exclusive
Jason Patric's Lawyer Slams Abuse Allegations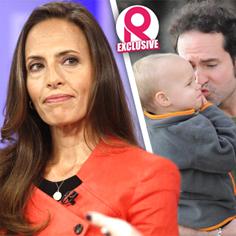 UPDATE:
"Contrary to Mr. Silberberg's assertions, the transcripts show that the Court never found Ms. Schreiber's sworn statements about Mr. Patric's violence against her not credible in 2012 or any other time. To the contrary, after a three day hearing during which both Ms. Schreiber and Mr. Patric testified concerning his physical and verbal abuse to Ms. Schreiber, the judge issued a Restraining Order, not just a No Contact Order, as Mr. Silberberg claims. This restraining order states that Mr. Patric must not: '(a) harass, attack, strike, threaten, assault (sexually or otherwise), hit, follow, stalk, molest, destroy personal property, disturb the peace, keep under surveillance, or block movements, or (b) contact either directly or indirectly, by any means, including, but not limited to, by telephone, mail or email or other electronic means.' The facts in this case speak for themselves,"Patty Glaser told RadarOnline.com in a statement on Friday.
Article continues below advertisement
Days after Jason Patric's ex Danielle Schreiber accused him of a litany of physical and verbal abuse, the actor's attorney is spoke exclusively to RadarOnline.com.
But Patric's attorney, Fred Silberberg told RadarOnline.com exclusively, "Ms. Schreiber brought forth domestic violence allegations that allegedly occurred between 2005-2006, during a child custody visitation hearing in 2012, and the Court found no credibility in the claims. There are no police reports, and no evidence to support those claims, which we contend are categorically false, and never happened."
"In fact, in that 2012 hearing, Jason was granted visitation with Gus five days a week, and video chatting four times a week," Silberberg continued.
"There was a no-contact order issued in November 2013, which states Jason can't call her," he admitted. "Jason had called her because she had represented to the Court that she would allow contact with Gus, but ultimately didn't. She was also unsuccessful in her attempt to get an order prohibiting Jason from talking about Gus, and showing his picture in public without her prior written consent."
Article continues below advertisement
"Their son, Gus, was conceived via in vitro fertilization, and under California law sperm donors have no parental rights," Silberberg explained. "Jason did have an active role in his son's life, and acted as a loving father."
Scorned Exes Tell All: Inside Hollywood's Ugliest Splits
On Thursday, media reports claimed that in court documents, Schreiber alleged that Patric slammed her head into a wall in 2005, although there are no police reports to support the accusations.
MORE ON:
Celebrity Justice
Schreiber also claimed in documents that Patric was anti-Semitic and allegedly referred to her as "Jew C**t" or "Ms. Jew Schreiber" at their son's preschool. Patric's attorney denies all charges of anti-Semitism as well.
Patty Glaser, Schreiber's attorney told Radar, "My client should get a badge of honor for having the courage to stand up and decide not to be a victim anymore. It's very common in cases where women are abused to not file police reports as they feel shame, guilt … It's a vicious cycle and psychosis."
Article continues below advertisement
"Danielle and Jason never lived together, and he just wanted to come over to her house anytime to visit Gus, with no prior notice," she continued. "She had a problem with that, and that is why Mr. Patric filed the paternity suit. He has been caught peering in the windows of her home, and she has had to erect a security fence, with surveillance cameras. She is extremely frightened of Mr. Patric, who has urinated in a closet at her house, and drinks too much."
Two weeks ago, the California Court of Appeals ruled in Patric's favor in his attempt to regain visitation with Gus.
Patric must now prove to a Los Angeles familycourt that he qualifies as Gus' father based on his actions. Patric's name wasn't listed on the child's birth certificate, but he has argued in the past that he signed school forms and other paperwork that parents traditionally sign.
In closing, Silberberg says, "My client is hopeful that he will regain visitation with his son very soon. He loves Gusvery much, and just wants to be his father. He hasn't seen Gus since last year."