Exclusive
From Daddy's Girl To Clooney's Girl: Father Of George's Fiancée Reveals His TRUE Feelings About Their Surprise Engagement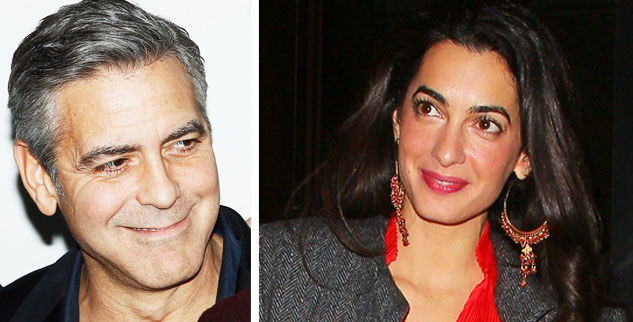 When George Clooney fell head over heels for new fiancée Amal Alamuddin, there was another man standing in his way — her dad. Fiercely protective of his beautiful and brilliant daughter, Ramzi Alamuddin had his doubts about the movie star's intentions, RadarOnline.com has learned exclusively. Now, only RadarOnline.com has all the details of how the family has finally accepted him into the fold.
When Clooney first came into the picture, a source close to the family reveals, they were "scared … that Amal's accomplishments and education would be neglected in the press — and even by George."
Article continues below advertisement
"The family is extremely educated and takes pride in what they've accomplished in life, both in Lebanon and around the world," the source explains. ""Amal's grandmother is actually the first woman to graduate from the American University of Beirut; her great grandfather was one of the most successful and notable Druze scholars of the twentieth century and one of the biggest names in Arab world economics."
"Amal's mom and dad devoted their lives to providing the best education possible for their kids," the source says, and they were worried that all that could be eclipsed by Clooney's star power.
But after getting to know the movie star, the insider reveals, "Amal's father Ramzi approves of George wholeheartedly. He clearly has the brains to go with his beauty, and he's working hard to prove to them that he deserves a place in their respected family."
Article continues below advertisement
At the same time, "Ramzi is not very fond of all the fuss and media attention," the source says. "But they are actually happy that the media is recognizing Amal's accomplishments."
"Her father couldn't be prouder of her and is beyond thrilled that the world now knows her name and what she has done," the source says. "He jokes that George will become known as Mr. Alamuddin instead of Amal being known as Mrs. Clooney!"
And for the first time, Clooney, 53, seems content to share the spotlight with a worthy partner.
Amal, 36, "is not a gold digger," the source insists. "She has her own money and things going on, and George has told people that's why he knows he can trust her and wants to be with her. She isn't going to be arranging paparazzi photos like some of his past girlfriends have done."
Do you think Clooney and Alamuddin are a good match? Let us know in the comments!