Avril Lavigne's Rocker Ex Deryck Whibley: 'If I Have One More Drink, I Will Die'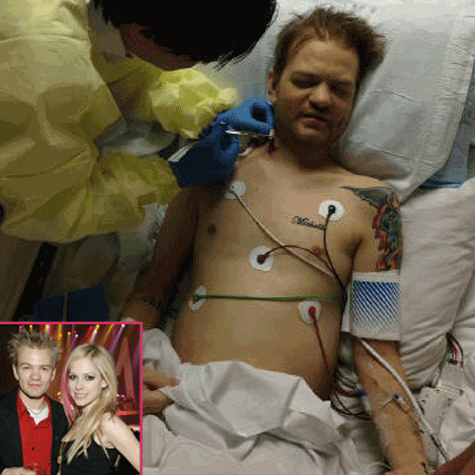 Deryck Whibley has made a shocking confession. The Sum 41 rocker has been in a hospital for a month, a result of his alcohol consumption. His condition was so dire, Avril Lavigne's ex-husband says his kidneys and liver had "collapsed" and that his doctors have told him if he has one more drink, he'll die.
"I was drinking hard every day. until one night. i was sitting at home, poured myself another drink around mid night and was about to watch a movie when all of a sudden i didn't feel so good. i then collapsed to the ground unconscious. my fiancé got me rushed to the hospital where they put me into the intensive care unit," Whibley posted on his website along with photos of himself in the hospital.
Article continues below advertisement
Whibley titled his frightening story "Rock Bottom," and that's exactly what he described.
"...my liver and kidney's collapsed on me. needless to say it scared me straight. i finally realized i can't drink anymore. if i have one drink the doc's say i will die. i'm not preaching or anything but just always drink responsibly.," Whibley wrote.
Whibley's ex has now Tweeted her support. "I am so proud of him," Lavigne told her followers. "He is family to me and always will be."