She's Back! Get A Breastful Of Courtney Stodden In Her Brand New Web Series!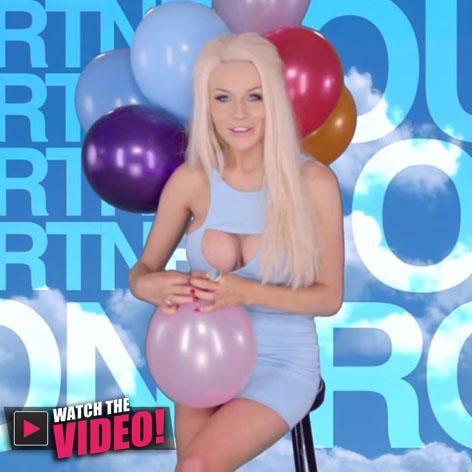 Courtney Stodden is back, more boobalicious than ever and now easily accessible in her very own web series and RadarOnline.com has her entertaining videos where she preens for the camera while giving an important lesson in selfie taking and helium inhaling.
The Teen Bride, who is now 18 years old, has legally separated from her much older husband Doug Hutchison, and now she's starring in her own web series titled "Courtney Naturally."
Article continues below advertisement
"I'm just being me," Stodden told FoxNews.com.
"It's an awesome opportunity to collaborate with World of Wonder Productions on 'Courtney Naturally.' Each ep sic is fun and outrageous and the best part is there is no filter."
Hoping to show the world that the buxom teenager is more than just a pretty face, the first two episodes reveal her cute and playful side – one where she's inhaling helium from balloons and talking like Minnie Mouse and the next where she reveals how to take the best selfie.
"We've always been a fan of Courtney and after getting to know her thought there were many layers to Courtney that were not coming through," World of Wonder executive producer Tom Campbell told FOX411.
He said it's usually her "salacious side" that people know about, "when you talk to Courtney one-on-one, she reveals a certain self-awareness and sense of humor."
Laughing and posing for the camera in both videos, reality TV veteran Stodden looks completely at home in front of the camera and welcomes her fans into her world
Check out the videos of 'Courtney Naturally.'