Exclusive
A Family Affair: Inside Mila Kunis's Natural Birth Plan, PLUS Her Doula Is Revealed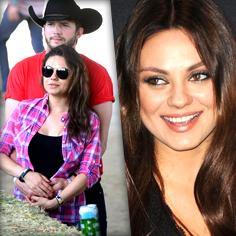 After months of speculation and watching her baby bump grow, Mila Kunis finally opened up about prepping for her baby during her appearance on Ellen DeGeneres' talk show last Friday — revealing she will opt to go au naturale during childbirth.
And despite not taking advantage of an epidural, she'll have plenty of other help to get her through the painful process because RadarOnline.com has exclusively learned she's already chosen her doula.
Article continues below advertisement
Ashton Kutcher's sister-in-law, Katie Hightower, who tied the knot with Kutcher's brother Michael in February, is becoming a certified doula (aka midwife) and has agreed to be by Kunis's side during her pregnancy.
"Mila asked her to do it and, of course, she's thrilled to be there for her. They've gotten really close," a source exclusively told RadarOnline.com.
Hightower and Kunis will stay in touch frequently, even though the future sister-in-laws live on opposite sides of the country with Hightower in Cedar Rapids, Iowa and the 30-year-old actress in Los Angeles.
So what exactly does this mean for the Jupiter Ascending star during the final months before her due date?
"Katie will be the one caring for Mila on a day-to-day basis if Mila needs any advice throughout the pregnancy," added our source. "And she'll be in the delivery room.
"She'll guide Mila during her pregnancy emotionally and provide her with important information about childbirth, breastfeeding, what to eat, how to stretch, how to care for her baby, and even examine her when possible."
In fact, the family has gotten so close, Kunis isn't the only one getting extra special care for her special delivery.
Hightower is also the doula for Kutcher's older sister, Tausha Kutcher, who as RadarOnline.com reported exclusively, got married in April and is expecting her second child.
"The siblings have gotten very close over the last year," continued the source, "and everyone is so excited."