Wiz Khalifa Says Working With Miley Cyrus Was 'Insane' -- Reveals She 'Smokes A Ton' Of Weed & Was 'Blowin Like A Train' While Recording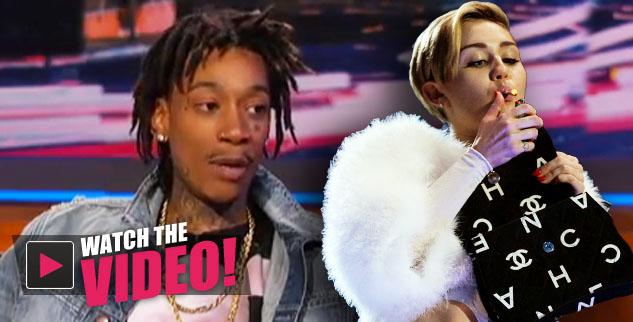 Rapper Wiz Khalifa appeared on The Arsenio Hall Show on Monday night and after talking about his new album, the chat quickly turned to how much marijuana former Disney star Miley Cyrus smokes!
Khalifa, 26, made no secret of his love for smoking pot and said that while making his album "Black Hollywood" he recorded several tracks with Cyrus — who apparently shares the same affinity.
"I got some songs with Miley on there," Amber Rose's hubby tells Hall, 58.
Article continues below advertisement
"What's she like to work with?" Hall asks.
"Insane! But in a good way though, she's just a ball of energy. She smokes a ton," Khalifa reveals.
"How do you define that amount, a ton?" the host asks.
"I don't know. She's younger so it's different," the rapper says.
"Every five minutes she kept being like, 'Hey Wiz, you don't have a joint rolled? What's up?' She was just blowin' like a train."
Cyrus, 21, has bragged about her love for smoking weed in the past saying, "I think weed is the best drug on earth! One time I smoked a joint with peyote in it, and I saw a wolf howling at the moon."
Check out the clip of Khalifa blowin' on Cyrus below:
youtube