Tori Spelling Secretly Hospitalized Amid Her Husband Dean McDermott's Cheating Scandal & Criticism Of Reality TV Show Premiere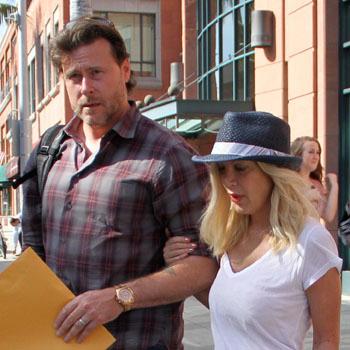 Was the pressure and criticism of Tori Spelling's docu-series premiere too much for the fragile Lifetime actress to take?
A shocking new report claims Spelling recently spent at least six days in a secret hospital stay, brought home by her cheating husband Dean McDermott on Saturday.
According to E! News, Spelling, 40, was spotted with a pink hospital band on her wrist while McDermott, 47, helped her into the SUV.
Article continues below advertisement
"He would arrive by 10am and didn't leave until 8 most nights. He seemed very stressed out and worried," an eyewitness told E!
''He would bring food and often only left Tori to go outside to catch some air or make a phone call.''
The couple's new docu-series, True Tori, premiered last week and was met with instant criticism by many viewers who find no sympathy in McDermott's infidelity — some even claiming the entire affair was fabricated simply to land a reality TV show and help them out of financial despair.
"Watching last night's episode of True Tori was emotional for me," Spelling wrote on her blog last Wednesday.
"The feelings are still very raw, but it was important for me to tell my story."
Spelling and McDermott have been married for seven years and have four children together; Liam, 7, Stella, 5, Hattie, 2, and Finn, 20 months.
It's unclear why Spelling was hospitalized, but stay with RadarOnline.com as more details emerge.