'Like A Puffy Pillow!' Tom Cruise's New Look Raises Eyebrows After A-Lister's First Major Outing Of 2014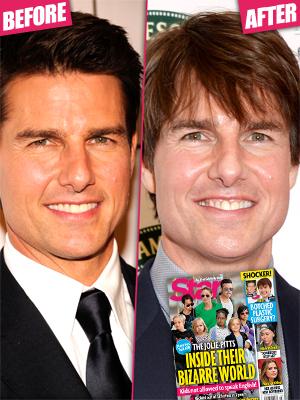 Tom Cruise's recent appearance at the Jameson Empire Awards in London — marked by an unusually shaggy mane and puffy cheeks — provoked whispers the perennial A-lister might have made some alterations to his 51-year-old face, RadarOnline.com is reporting.
"Tom's face looked like a puffy pillow," an eyewitness told Star. "Everyone there couldn't stop talking about how different he looked."
Dr. Anthony Youn, a famed plastic surgeon who has not treated the Vanilla Sky hunk, gave our friends at Star his professional opinion on whether the Mission: Impossible hunk has spent some time under the knife in light of his night out in London, his first major public outing in four months.
Article continues below advertisement
"Tom could be swollen from a recent injections of a filler like Sculptra," the doctor told Star. "This treatment is typically used to fill in gaunt faces, and it can cause facial swelling."
A source close to the situation said that the Risky Business star has "gotten terribly insecure when it comes to aging" — and it ties into his bachelor status over the past two years.
"If you were happily married, he might care about his appearance as much," the insider said. "But he really want does want to settle down again. The fact of the matter is, he's attracted to younger women, so he wants to look young."
Star, in its new issue, also dishes on Cruise's recent reclusiveness and the reasons why he might be keeping a low profile as of late.
Can't make it to the newsstand? Don't worry! You can download it right HERE.