Exclusive
Reba McEntire's Plea During Concert Worker Injury Legal Battle: 'I Didn't Cause Light To Fall 32 Feet Onto Your Head!'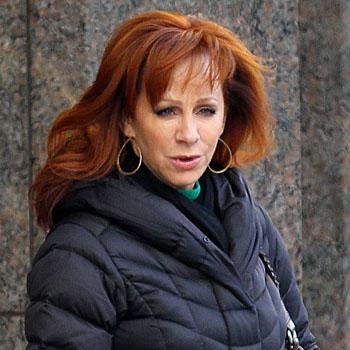 That's what Reba McEntire is trying to say as she fights a nasty legal battle against concert promoter AEG Live over a concert worker's injury claim, RadarOnline.com has learned.
The "Consider Me Gone" singer and queen of country is seeing red, saying she's not responsible!
In September 2013, Ronald G. St. Clair filed a lawsuit against McEntire and AEG claiming he was injured while working at the singer's Oct. 2011 concert in West Virginia's Big Sandy Superstore Arena.
Article continues below advertisement
St. Clair claimed he "was severely injured" when an unidentified employee of McEntire's tour was working on the set and trying to untangle a lighting truss and ceiling light fixture.
The lawsuit stated, "As the lighting truss was being placed by Defendant John Doe using a mechanical lifting device, he dislodged the light fixture from the ceiling, causing it to fall approximately thirty-two feet, striking St. Clair about the head, neck and right shoulder before coming to rest on the floor of the arena."
You Can Sue For That? The 53 Wackiest Lawsuits
St. Clair is seeking an undisclosed amount of damages for pain and suffering, medical expenses, loss of income, and "loss of enjoyment of life."
AEG responded that they were not responsible or liable for what happened and then filed a counter-suit against McEntire, claiming part of their deal was that she was responsible for any injuries that were caused by her employees.
Article continues below advertisement
However, the star has fired back, claiming the injuries were not caused by anyone working for her--and if the allegations in St. Clair's lawsuit are true, they were caused by the actions of AEG, not her.
In The Public Eye! Can You Match These Eyeballs To A Hollywood Star?
McEntire and her company are "completely without fault in this matter" court papers asserted.
The country singer wants the suit against her dismissed and if any judgement is won by St. Clair, that AEG be the one held responsible.
But don't count the concert giant out! As RadarOnline.com readers know, AEG Live won a lawsuit brought by Michael Jackson's mother; a jury decided last year the company wasn't liable for the pop star's untimely death.