Exclusive
Did We Get The Complete Picture? New York Housewives Vixen Amanda Sanders Claims Heather Thomson's Husband Called Her A 'B*tch' – But Bravo Edited The Scene Out!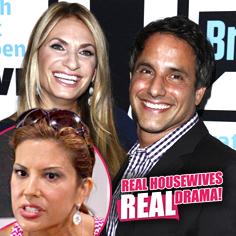 The image consultant pal of Aviva Drescher stirred up plenty of drama with Heather Thomson on The Real Housewives of New York last week — but there was apparently a lot more we didn't see!
Amanda Sanders has told RadarOnline.com that she was made to look bad after a major argument between her and Heather Thomson's husband was left on the cutting room floor.
Listen! 'RHOP' star Wendy Osefo breaks down the "most intense fight in the show's history" in under 2 minutes.
Article continues below advertisement
After the housewives began to take sides in the infamous "bookgate" scandal, Sanders claimed Thomson and Jonathan Schindler began to gang up on her – but Bravo chose NOT to air it.
"Say what you want about me, but everything felt very one-sided. What was not aired was Jonathan getting in my face and calling me a b-tch," Sanders said in an exclusive interview.
"I felt once her husband was involved and the two of them were ganging up on me, I had to walked away – but Heather came at me ordering me to deck her. It was such a mean girl mentality."
Of course, Sanders isn't exactly losing sleep over the reality TV edits – and weighed in on why the producers likely cut the scene!
"There is a lot that Bravo chose not to show. It's a little strange. Things didn't make it for whatever reason. Perhaps there wasn't enough footage to throw me under the bus. They chose what makes good TV," said the celeb stylist and Bling Jewelry curator.
"In spite, I made good television. You only live once," she joked.
After seeing the drama edited down into a one-hour long episode, Sanders isn't exactly gunning for a full-time role on the show.
"I'd have to think long and hard about becoming a full-time housewife. I have small children.
"After the way the women behaved to me as a newcomer, I can't imagine how much they'd be ganging up on me if I became a full-time cast member," she revealed.