Exclusive
Aviva Drescher's Image Consultant Slams 'RHONY' Stars: They're Threatened By Me Because They're All On Bravo's Chopping Block!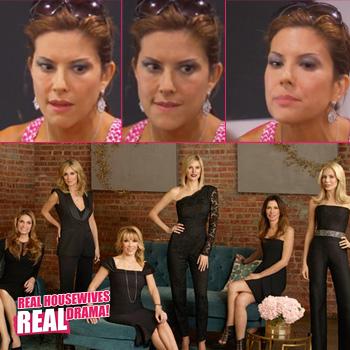 Amanda Sanders is taking New York City by storm, stirring up drama as Aviva Drescher's outspoken image consultant on the Real Housewives of New York – and now she's speaking exclusively to RadarOnline.com about her fight with Heather Thompson and the other "mean girls."
"Heather was gunning to get me from the start and truly went after me. She told me to watch my back," Sanders exclusively told Radar.
Article continues below advertisement
Listen! 'RHOP' star Wendy Osefo breaks down the "most intense fight in the show's history" in under 2 minutes.
On Tuesday's episode they eventually faced off, taking sides in the infamous "bookgate" scandal, after Drescher accused her co-star, professional writer Carole Radziwill, of using a ghostwriter.
By the end of the night, Thompson ordered Sanders to "deck me!"
"Heather is so far up Carole's a**! There was no reason for her to come after me. It was a high school, mean girl attack. Everyone was trying to throw me under the bus," Sanders said defending her actions.
The stylist, who also has a jewelry collection through Bling Jewelry, revealed that she was brought onto the show by Bravo producers -- and instantly felt like she had a target on her back.
"I was the new one in the bunch, so I think the girls are generally threatened by me. Everybody is holding onto their five minutes and it's over, it's time to go," she said.
"No one knows who is going to be on the cutting room floor. There's a chopping block, and let's face it, Kristen Taekman is as fun as watching paint dry. She's boring. Obviously Heather and Kristen are besties, so I think they're all ganging up on me to take me down," Sanders added.
Article continues below advertisement
Clearing up speculation about the latest episode, Sanders set the record straight about her friendship with Aviva's ex-husband Harry Dubin, whom Sonja Morgan has admitted she'd like to one day "settle down" with.
"Sonja's jealousy over Harry is nonsense. Please! The fact that anyone would fight over Harry is kind of funny. Don't get me wrong. He's a fun, sweet guy, but he's not my type. He and I are just friends," Sanders said.
"The fact that Sonja was jealous is ridiculous. I don't need anyone's sloppy seconds."