Phaedra Parks Stands By Her Man! 'RHOA' Star Says She's Not Getting A Divorce & Will Support Ex-Con Apollo Nida Through His Fraud Case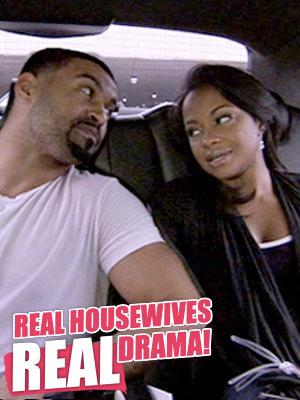 Article continues below advertisement
She flashed her big diamond wedding ring for Cohen and commented, "Check out the bling."
When Cohen asked if it had been a hard time for the couple, she said, "Of course it is. But we are where we are and we'll support him. We are a family. He's the father of my two beautiful kids and at the end of the day, I am a Southern belle and I believe in family and I will support him until this is resolved."
Faked Scenes, Lies & Payoffs – The Ultimate Guide To Reality TV Shows
Parks, the mother of two young sons with Nida (who spent time in prison and appeared in various mug shots before becoming famous on the Bravo show with his wife) also said, "Obviously I have nothing to do with his current issues. He is going to appear on the next reunion show and have his own conversation with the lovely Andy Cohen and he will tell you all about his issues and problems and I will sit back quietly and listen."
Article continues below advertisement
And when Cohen asked if Parks, a prominent attorney, would be representing him in court, she snorted, "Hell, no!"
Parks also sounded off on the notorious reunion show fight in which Porsha Williams attacked Kenya Moore after both traded nasty insults.
Fans finally got to see the battle on Sunday's part one reunion show broadcast, and Parks revealed to Cohen on WWHL, "Truth be told, Porsha and I had talked about a lot before the reunion because we both knew we were in a very fragile state."
"I had already warned her. This year I wasn't pregnant—because last year, Kenya had obviously threatened to snatch me up and I guess beat me while I was eight and a half months pregnant."
Pausing, Parks said sarcastically, "But she's not violent now! Oh, no! Don't say that, now. But I just knew this year I would not be able to tolerate all of the foolery. And so we talked about it and I stressed to Porsha the importance of just being calm and making sure you maintain the proper decorum.
"But Kenya has a way of provoking people. She's like a big bully. She talks a lot of talk and cannot walk the walk."
Parks also said she's cool with co-star NeNe Leakes, saying, "NeNe and I bonded more than we have in previous years. I like NeNe. It's all good."
However, she also told Cohen about Leakes and Cynthia Bailey, who are now feuding, "I'm hoping they will be able to reconcile but it's not looking good."