Nigella Lawson's Ex-Husband Being Blamed For Her Being Banned From Entering U.S.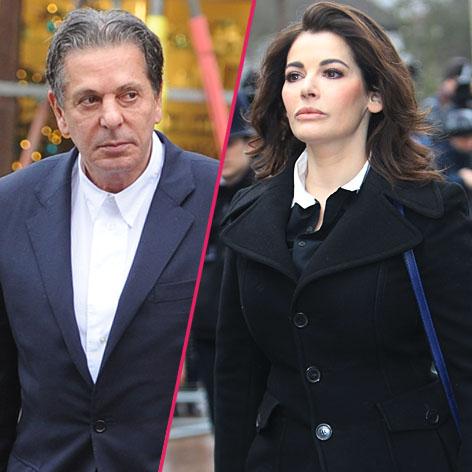 Nigella Lawson was humiliated when she was stopped from boarding a flight to the U.S. last week, and now sources are claiming her ex-husband, Charles Saatchi, was behind the shocking incident.
Her admission in a London court that she had used cocaine and marijuana was the reason for her being turned away at the gate of her British Airways flight, according to numerous reports.
Article continues below advertisement
Lawson hasn't publicly accused Saatchi of being the culprit in alerting U.S. Customs and Border Control agents to her past drug use, but her friends believe he's to blame, according to a report.
"Nigella has said several times that she believes Saatchi is out to ruin her. Clearly she puts nothing past him. This is a dreadful situation, she feels she will never get away from him," a source told the UK's Sunday People .
Lawson, who appears on ABC cooking competition show, The Taste, was on her way to the U.S. for a vacation she was denied boarding her flight. U.S. officials declined to reveal why she was barred but the law does allow for excluding drug users -- even if they haven't been convicted of a crime.
Her The Taste co-host, chef Anthony Bourdain, tweeted that he was "absolutely mortified with embarrassment over the cruelty and hypocrisy of U.S. actions" over Lawson's travel woes.
Lawson and Saatchi recently finalized their very bitter divorce. Her embarrassing revelations of drug use came during the fraud trial of two sisters who had worked for the pair. The women were acquitted of the charges against them.
It's unclear what she'll have to do to resolve her situation regarding entering the U.S. in the future.