Exclusive
'You Are An Adulterer!' Ex-Pal Marlo Hampton Claims Housewife NeNe Leakes Recently Sexted Her Ex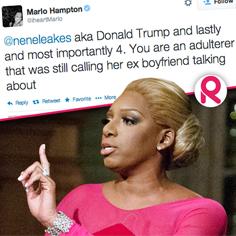 This catfight is going to leave a mark!
Just days after Marlo Hampton told RadarOnline.com that NeNe Leakes is a "childish liar who needs a nose job," Hampton has ramped up her attack on the Real Housewives of Atlanta star, calling her "an adulterer" who cheated on her husband with her ex!
"I heard that NeNe is still in touch with her ex-boyfriend, and he is buying her gifts including Gucci bags and other expensive things," Hampton exclusively told Radar.
Article continues below advertisement
Before Leakes reunited with and ultimately re-married Gregg Leakes in a made-for-TV wedding on Bravo, she dated Famous Famiglia co-founder John Kolaj.
During their fling, Leakes tweeted about the extravagant gifts he gave her, which included diamond necklaces, Louboutins, and designer handbags.
Now, Hampton claims, "She's a married woman, but I heard she is still communicating with John. He's still asking her to be with him."
Faked Scenes, Lies & Payoffs – The Ultimate Guide To Reality TV Shows
Indeed, Hampton tweeted at Leakes earlier this week, "You are an adulterer that was still calling her ex boyfriend talking about your hello kitty up until last month!"
The bombshell allegations come after Leakes called her former pal "man-ho" on Bravo's Watch What Happens Live.
When Radar asked Hampton about the adultery tweet, she said,  "Oh my gosh. I almost fell off the couch when I heard what she called me. And then my fingers just went to tweeting!"
A rep for Leakes did not respond to Radar's request for comment.