Exclusive
'RHOA' Star Marlo Hampton Slams Former BFF NeNe Leakes: She's A 'Childish' Liar Who Needs A Nose Job!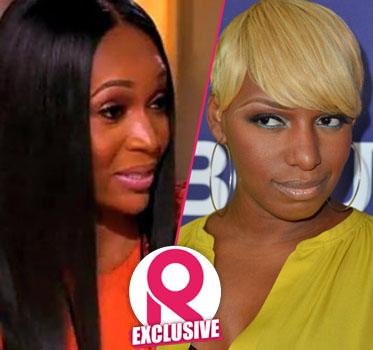 Friends don't call friends "man-ho." After NeNe Leakes used the term to describe former BFF Marlo Hampton on Bravo's Watch What Happens Live, Hampton is fighting back, exclusively telling RadarOnline.com that Leakes is a "childish" liar who needs a nose job!
"How elementary is that name calling?" Hampton vented to Radar. "She's a grown, happily married woman. I'm completely appalled by her childish actions. Man-Ho? Really? That's low."
Article continues below advertisement
Slamming the Real Housewives of Atlanta star, Hampton joked, "If she's going to be dirty about my looks, well, let's talk about that nose job. Her nose job needs a nose job!"
"She is still under construction," Hampton continued. "That nose job still is not right. I'm not being mean. I'm just being honest." Leakes has denied having plastic surgery on her face.
Hampton went on to dispel Leakes' "lies" about their fall-out. Leakes claimed during WWHL that the real reason for their rift was the drama Hampton allegedly caused between the bridesmaids during Leakes' televised wedding.
But Hampton said Leakes didn't actually begin to distance herself until much later, claiming the outspoken housewife invited her to hang out at least five times after the wedding and kept in contact through texts and phone calls.
Faked Scenes, Lies & Payoffs – The Ultimate Guide To Reality TV Shows
"She's just upset that I filmed with Kenya Moore," Hampton insisted. "At one point, NeNe three-way called me with Cynthia Bailey. She was like, 'I heard you've been taping with Kenya. I don't like her, and I want to know whose team you're on.'"
Article continues below advertisement
"Well, I told her, 'I'm on Team Marlo, and you can't tell me whom I can and can't tape with!'" Hampton revealed.
Hampton claimed Leakes continued to blast her newfound friendship with the former Miss USA as the two grew closer.
"When she heard that Kenya and I were at the Herve Leger fashion show in New York last September, NeNe went crazy! She called me, yelling, 'What are you with her for?! Get away from her. I don't want you hanging with her,'" Hampton revealed.
The two last communicated via text about a month ago, Hampton said, but "it didn't end well. We were both just like, 'Don't call me. You're blocked!'"
So will Leakes and Hampton ever be friends again?
"It's definitely possible," Hampton admitted. "I just hope that NeNe finds God. I believe her fans deserve the truth and feel she needs to revisit the commandment, 'Thou shall not lie.' Oh, and I wish her nothing but the best in Hollywood."
As for her future on RHOA, Hampton insisted that Leakes has no power to keep her off the Bravo franchise, telling fans, "Don't worry. I'm not going anywhere!"